The Politician | Interview with Laura Dreyfuss and Theo Germaine
Sassy, smart and surprising: watch the Netflix Original Series "The Politician" and check out our interview with stars Laura Dreyfuss and Theo Germaine.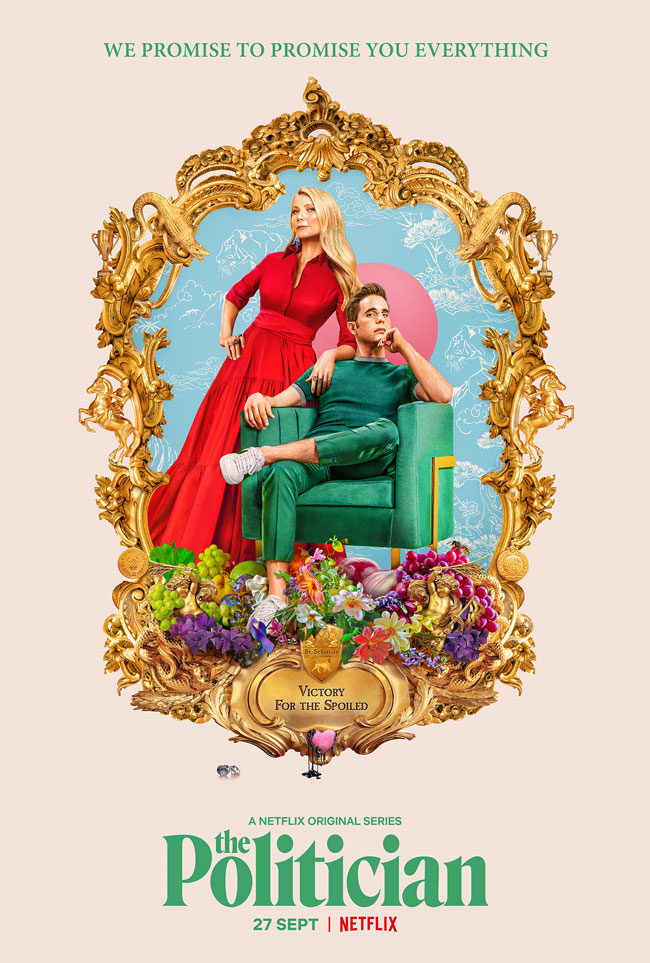 The Politician on Netflix
The Politician is now on Netflix! If you haven't seen it already, buckle in because you're in for the ride of your life! You may think you know what is going on, but just a few seconds into the trailer you'll realize that the show is full of twists and turns. Netflix has hit it out of the park with another binge-worthy series that will keep you coming back for more. The show has an appeal that crosses many demographics from teens to mid-life mamas. There is something for everyone. Let's take a look…
Payton Hobart (Ben Platt), a wealthy student from Santa Barbara, California, has known since age seven that he's going to be President of the United States. But first he'll have to navigate the most treacherous political landscape of all: Saint Sebastian High School. To get elected Student Body President, secure a spot at Harvard, and stay on his singular path to success, Payton will have to outsmart his ruthless classmates without sacrificing his own morality and carefully crafted image. Created by Ryan Murphy, Brad Falchuk and Ian Brennan, The Politician offers a comedic and satirical glimpse into just what it takes to make a politician.
Interview with Laura Dreyfuss and Theo Germaine
Thanks to our friends at Allied Phoenix, we had the awesome opportunity to do a roundtable interview with two of the stars of the new series, Laura Dreyfuss and Theo Germaine. Laura, known for Glee and "Dear Evan Hansen," plays McAfee Westbrook one of Payton's friends and campaign managers. Theo, known for Adam and Work in Progress, plays James Sullivan, also a friend and campaign manager.
What do you love most about your character?
Laura: I kind of love the sense of humor that my character has, it's really fun.
Theo: Oh that's so hard to answer. I'm like a really wacky like airhead, like all over the place person. James isn't that way. He's like very grounded and is very logical. I just admire how put together he is; I aspire to be more that way.
Is there anything about the the politics of the show that you feel parallel the political climate of today?
Laura: Yah, I think there's parallels with everything today. And not just politics, like things that happen socially in the world.
Theo: Yes, it's relevant but it's also like a parallel universe. That's the way that he [Ryan Murphy] builds worlds so it's hard. So it's hard to answer that question because there are issues that come up that you need to talk about, like gun violence you know and access to firearms that the people have in the US. Campaigns. Something comes up about voter suppression.
Laura: Like the college admissions scandal. I mean they wrote that before that even happened. So it was like Ryan Murphy has this uncanny ability to sort of tap into what's going on in the world and can almost predict the future in that way.
Theo: Yah, I think this is just a hard question for us to answer because it is reflecting society, but it does not reflect society. Its power hopefully is to inspire people to look at their society and be like what is wrong with them. And how can I be called to action, to be a more active participant and to be a more active voter and not do not cheat my way into school.
You guys have an amazing and diverse cast. Watching the show, I wonder what it's like behind the scenes?
Laura: I think everyone's drawn to me.
Theo: I think the first day that I met Zoe, we met Zoe when we went to Ben's house over the weekend, but the first day that I worked with Zoe. She was she was in her office. She was in her garb and she was like doing like a pterodactyl impression. She's very goofy.
Laura: I think we all are. And that's what's so fun, I mean we just really get along and make each other laugh and like from day one we were all just very fortunate to have a very good time with one another and we got to go to Disneyland as a group
Theo: We went dancing together. There were other actors who we would chat with who were like, "You know I really like each other?" We'd be like Yeah. And they would be like, that's not normal. It's not normal for everybody to just get along and stuff that much. So, just more more proof that it's a special cast.
The Politician: No Spoiler Review
WATCH IT! Smart, sassy and surprising. This is the first show I binge watched in a matter of a couple days since Dead to Me. It really is that complex and enjoyable. The casting is spot on and the writing is impeccable. If you're looking for a good weekend watch or something to fill your evenings, this is it. I can't wait for Season 2 (yes, it's already been renewed). Give it a watch and come back and let us know what you think!