Helpsters | Interview with Cody and Jordan Geary
From the Makers of Sesame Street, sit down with us as I interview Cody and Jordan Geary of the Helpsters now streaming on Apple TV+!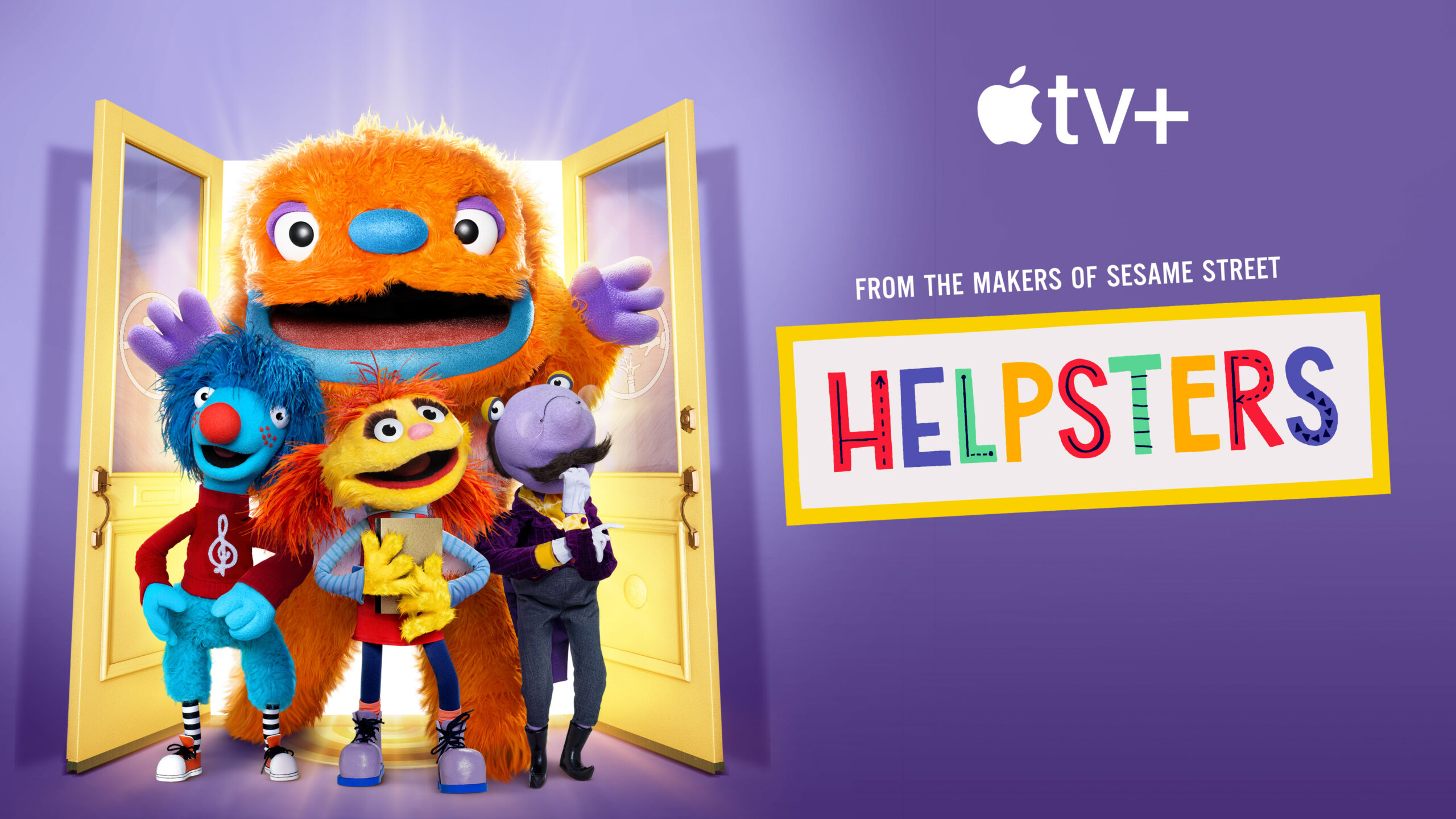 Helpsters on Apple TV+
Hi friends! If you have kids at home that are fans of Sesame Street, you're going to want to check out a series now streaming on Apple TV+ called the Helpsters! Thanks to our friends at Allied Phoenix and Apple TV+ Press we had the chance to screen the series and do round table and solo interviews with Cody (Puppeteer Stephanie D'Abruzzo) and Jordan Geary (Senior Director of Production and Development, Sesame Workshop). So I'm going to share that Q&A with you and tell you what our little one thought of the show! Let's dive in…
Helpters From the Makers of Sesame Street
"Helpsters" is a new live-action pre-school series from the makers of "Sesame Street." Cody and the Helpsters are a team of vibrant monsters who love to solve problems. Whether it's planning a party, climbing a mountain or mastering a magic trick, the Helpsters can figure anything out — because everything starts with a plan.
Featured guest stars in the second season include Terry Crews, Danny Trejo, Gabby Douglas, Christopher Meloni, Richard Kind, Michael Ian Black, Janeane Garofalo, Michelle Buteau, and Judah Friedlander, with musical guests including Talib Kweli, Matt Berninger, Jason Mraz, K. Flay, Norah Jones, and Ingrid Michaelson.
Emmy Award winner and Parents' Choice Gold Medal winner Tim McKeon ("Foster's Home for Imaginary Friends: Destination Imagination," "Odd Squad") is the creator and showrunner of "Helpsters." He and Sesame Workshop's executive vice president of Creative and Production Kay Wilson Stallings are executive producers.
The recipient of a Parents' Choice Gold Medal Award and Common Sense Media Award, "Helpsters" has been recognized as "immersive, educational, and entertaining." The series teaches young viewers important lessons in pre-coding skills and inspires self-confidence, collaboration, effective communication and much more.
Round Table with Cody and Jordan Geary
Stephanie D'Abruzzo plays Cody on Helpsters for Apple TV+, and performed Cody for Helpsters Help You, a series of short videos shot in her apartment during the COVID-19 quarantine. While this is her first time working with Apple, she has a long relationship with Sesame Workshop, having joined Sesame Street in Season 25. Jordan Geary is an Emmy Award-winning creative producer and executive in children's media, currently acting as Senior Director of Production and Development at Sesame Workshop.
This show comes from the makers of Sesame Street. What's it like to work at the Sesame Workshop?
Jordan: That is a fantastic question. Um, well, personally, it's a dream come true 'cause I grew up like many people did on Sesame Street. My kids watch Sesame Street. Um, I would say professionally, it's kind of, like, working at the Harvard of kids TV. Every room that you go into it's, like, the best and brightest are there. You know, people are introducing themselves, "Oh, I've-I've written this book. Oh, I've-I've documented this paper. Oh, this thing was named after me." And everyone is, uh, you know, very big and very important. And then everyone just sits down and talks about what would be best for kids.
Cody, how did your group of friends meet and get together for Helpsters?
Cody: Uh, well, see the-the back story to how the Helpsters got together, see-see that's a subject for a graphic novel someday. Th-there's gonna be a whole movie, a whole franchise. 'Cause it's a long story, and it's way too long for a little, uh, a little meet and greet like this. But let me tell you, it's a story. The-the-the cannon of this story boy let me-let me just tell you… just-just suffice it today that we all came together because A we're monsters who love to help, and B we're just all great pal-sies. And, you know, we like solving problems together. I have the best team in the world. I got my buddy Bud Scatter. I got Mr. Primm. I got Heart. We even have Jackie. It's so amazing, and we have the best shop in the world. We have the greatest place to-to help.
And Jordan what is it like working with Helpsters like Cody?
Jordan: It's fun, it's crazy, but it's really, really fun. Um, I think the thing that I've liked the most about working with the Helpsters, is they are constantly teaching me, and our family audiences that there's no problem big or small. Uh, I personally, need that reminder on a daily basis, when thi-when I'm confronted with things that seem, like, they're insurmountable. Just like a lot of kids. Especially, kids that are dealing with a lot that's happening in the world right now, need those reminders. That you can take a big problem and break it down into some smaller problems. Come up with a plan. Work with some of your friends and overcome it. And that's what's really at the core with Helpsters. With this partnership that Sesame Workshop and Apple Plus have together, is this need to help kids overcome things that seem insurmountable.
Cody, how do you and your friends help kids?
Cody: Well, we help anyone who comes to the shop. We can help kids. We can help adults. I mean, we, uh, let's see, for example, say-say you lost your toe shoes, and you had a big ballet concert. Well, that might not seem like a very big problem is you're not a dancer, but if you're ballerina Betsy it's a big problem. So we made a plan, and we helped her find her toe shoes. So, you know, we-we try to show people through our work that first, everything starts with a plan. If you have a problem, you see what the problem is, and you make a plan to solve that problem. And then you give jobs to your team.
You decide what the jobs are, and maybe my buddy Bud Scatter's gonna do one job. And maybe Hearts gonna do another job. And Mr. Primm's gonna do another job. And I'm gonna do a job, right? And then when you do the job sometimes, we use things, like-like, sequencing. That means the order in which things happen. Sometimes, um, ooh, sometimes I need to be clear with my instructions. Sometimes we need to debug. Things go wrong and you need to find the bug in the problem, and then, so you can fix it. Sometimes we loop things, you know, instead of saying, "Well, first you do this, and then you do this, and then you do that again, and then you do that again," you can say, "You do this, and this, and then you just loop that over and over."
It-it-it makes things a little clearer. See and then, we just-we just, uh, we show through our work how fun it is to solve problems, and how anyone can do it. Anyone can be a Helpster. You don't even have to be a monster to be an honorary Helpster.
And Jordan, how do you come up with the ideas for the problems, and how to help with them?
Jordan: That's a great question. The way that we come up with the ideas, um, is by taking things that are kid relatable. Uh, I think a lot of people that are making educational content, they try to, like, shoehorn in some message they're trying to teach to kids. And then wrap in, like, some pretty cellophane to help them learn about something. But something that's really important to Sesame, and why it's, like, uh, the leading educational entertainment company. Is because we start off with, what do kids like? What-what would be fun for, uh, kids to see. What's a fun story that we'd like to tell.
And then once we have that, then we talk to our curriculum department and say, "What can we infuse in here, that'll take a situation that's-that's recognizable to kids and make it a learning moment too." And I think that's why a lot of kids will watch Sesame Street, and might not even really realize that they're learning, is because there's… it's so baked into what already happening. That they're just having fun, they're dancing, they're singing, they're partying. And we wanted to bring that over to Helpsters too.
Interview with Cody and Jordan Geary
I also had the opportunity to chat with Cody and Jordan 1 on 1! Let's take a look…
[adthrive-in-post-video-player video-id="MDyMF1OO" upload-date="2020-11-23T21:41:33.000Z" name="helpsters.mp4″ description="null" player-type="default" override-embed="default"]
THE CONCLUSION?
We love the series. If you have kiddos who are fans of Sesame Street (I know we do), this is a natural addition to your educational tv repertoire! I especially love that it helps little ones learn to problem solve and to know that they can reach out to others for help when they need it too!
IS IT OK FOR KIDS?
Helpsters is a Kids Series Rated TV-Y and is safe and approved for children of all ages!
But I really hope if you haven't seen it yet that you'll give it a watch! I really think it's 100% worth it and I know everyone in our home is excited for Season 3! Let us know if you see it and tell us what you think!