Octonauts Rice Crispy Treats
Whip up these adorable Octonauts Rice Crispy Treats to celebrate the NEW series Octonauts: Above & Beyond, now streaming on Netflix.

Disclosure: This post is sponsored by Octonauts: Above & Beyond; however, all thoughts and opinions are our own.
Octonauts Rice Crispy Treats
Hi friends! Do you have any Octonauts fans in your house? We do! My 5 year-old Adrian LOVES the Octonauts, so we were so excited to learn that there is a NEW show available to stream now on Netflix—Octonauts: Above & Beyond! To celebrate, we whipped up some adorable Octonauts Rice Crispy treats resembling our favorite ocean friends.
Octonauts: Above & Beyond
In the new Netflix series, Octonauts: Above & Beyond, the Octonauts expand their exploration beyond the sea — and onto land! With new rides and new friends, they'll protect any habitats and animals at risk. Check out the trailer below and you can see the ENTIRE first episode on YouTube here!
If your kids are already fans of the Octonauts, they're going to love Octonauts: Above & Beyond! I love how action-packed the show is, it definitely keeps Adrian's attention, which for a 5 year-old boy, you know is quite the feat. I also love the great lessons that the Octonauts help to teach our children. They're concerned about others, take care of our planet's ecosystem and animals, work on problem solving and more.
In the new series, fans will get to see the Octonauts on land for the first time (so fun!), and they'll meet new land-based friends like Paani, who we made a special treat for!
Your Octonauts favorites make a return as well, so we whipped up some treats for Peso, Kwazii and of course, Captain Barnacles!
Octonauts Rice Crispy Treats
Here is what you need to whip up your own Octonauts Rice Crispy Treats!
Crisped rice cereal
Marshmallows
Butter
Candy melts
HOW TO MAKE Octonauts Above & Beyond RICE CRISPY TREATS
First I whipped up a fresh batch of rice crispy treats (see classic recipe below) in a large jelly roll pan. These are thinner than I would normally make and I also used another pan to press down on top to try to condense the treats as much as possible, to make them ideal for for shaping and creating our treats.
Once those were set up, I used an oval cookie cutter to cut out the basic head shape, then added pieces for ears, hats and hair as needed for each character.
Once I shaped the pieces to their desired shape, I placed them in the freezer to firm up. Once they were ready to decorate, I simply melted different colored candy melts to create their faces! You can use various tools with candy melts, my favorite are microwavable candy piping bags, where you can melt the color you need right in the bag, snip the end off and decorate!
Color candy melts needed:
Barnacles: white, blue, black
Kwazii: orange, yellow, black and blue
Peso: white, black, yellow and blue
Paani: white, yellow, brown (chocolate), and black
And the result? Cute candy-coated Octonauts Rice Crispy Treats your kiddos will love!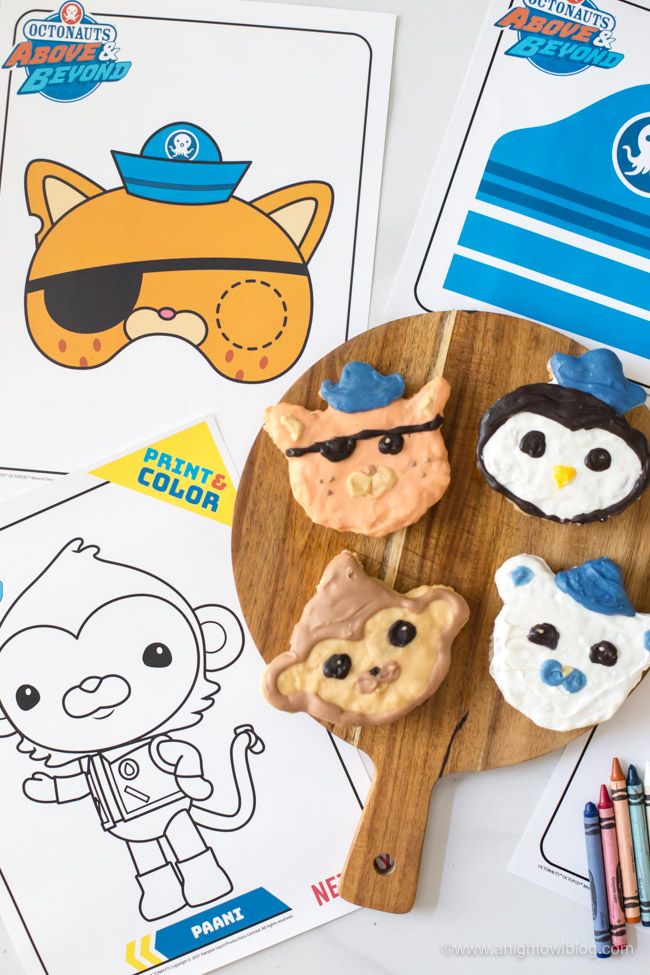 I hope you'll give them a try! Be sure to tag us if you make them, I'd love to see! Don't forget to watch the NEW season of Octonauts: Above & Beyond, now streaming on Netflix!
Octonauts Rice Crispy Treats
3 tablespoons butter
5 cups mini marshmallows
6 cups crisped rice cereal
In microwave-safe bowl heat butter and marshmallows on HIGH for 3 minutes, stirring after 2 minutes.

Stir until smooth.

Add crisped rice cereal, stir until well coated.

Using buttered spatula or wax paper evenly press mixture into 13 x 9 x 2-inch pan coated with cooking spray and cool.