Trolls World Tour | Interview with Ron Funches and Flula Borg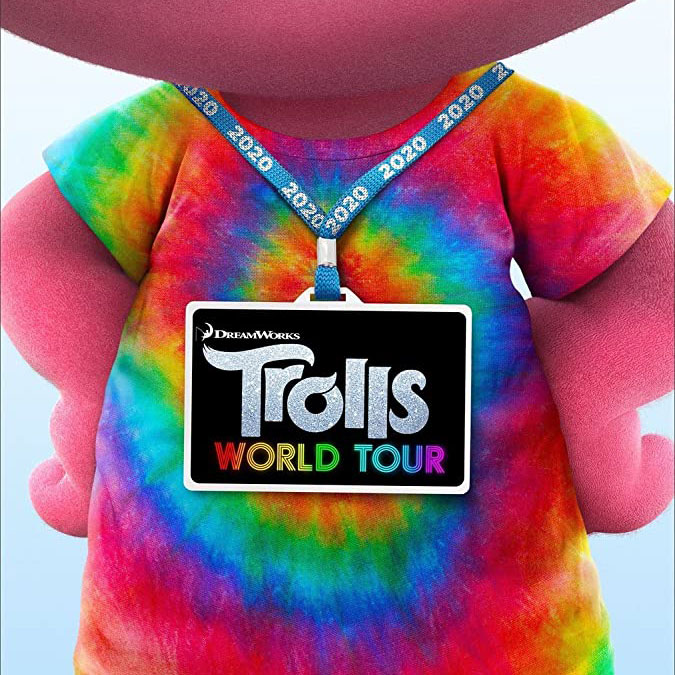 Grab some popcorn and sit down with us as I interview Ron Funches and Flula Borg of the new box office hit, Trolls World Tour — now on Digital and Blu-Ray!

Trolls World Tour on Blu-Ray
Hi friends! I know you've seen it, right? Trolls World Tour debuted at home, On Demand on April 10th — a time when we ALL needed a little pick me up. Well now you can OWN that little bit of sunshine at home because Trolls World Tour is now available on Digital and Blu-Ray! I know my music-loving little "Trolls" are going to love having 24-7 access to the film. And thanks to our friends at Fingerpaint Film I had the opportunity to "Zoom" interview two stars from the film: Ron Funches, who voices "Cooper," and Flula Borg who voices "Dickory."
Interview with Ron Funches, "Cooper"
Ron Funches is an American comedian, actor, voice actor and writer. You might know him as a guest on several comedy series, including @midnight, Mulaney, and the Kroll Show or as a voice actor on such series as BoJack Horseman, The Adventures of Puss in Boots, and Adventure Time. He's a JOY to listen to and a great interview! Check out our little Q&A:
To kick things off I would just ask what was different about the movie being released on demand versus in the theater? Going into it you expect it to be a big box office fanfare but instead it's released at home do you feel like it was the movie that families just really needed at this moment or what do you feel like was different with it being an at home release versus in the box office.
"Well I think you put it very well. At first I was a little bit disappointed that we weren't going to have the original release just from an ego perspective. I'm not in very many movies so I love it when I get to go to a premiere. I was looking forward to meeting Mary J. Blige and talking to George Clinton, things like that. But I think the best thing that came out of it was exactly how you put it that we were able to provide an escape, a distraction for people, for parents — I'm a parent myself — so I knew at that time you know my son was a little stressed out, I was a little stressed out that he was stressed out and so to kind of be able to have the movie premiere be a worldwide thing that we could all share at home and I could post pictures about it and see my friends post pictures about it and show me their kids watching it and how much it meant to them — I got over missing the premiere pretty easily. That we could actually help people, that was very nice."
In the times that we're in, I don't know if this was thought about going into the film but one thing that I know my family really recognized throughout the movie is representation. Not only in different music and different cultures but also I think they recognized different types of voices. Particularly, my boys are Black and my husband is Black and so I know they recognize those times when they hear themselves represented in movies or see themselves represented in movies. Was that something that you felt like was really recognized going into the film and do you feel like that was celebrated in the film?
"Yah, absolutely Kim. I knew from the get-go that was one things they talked about when they were even just showing me the script was that it was going to be a lot about representation and showcasing different genres of music and thereby showcasing different backgrounds and different cultures. And I was really into that and I think the part that really showcases that in the movie is Anderson .Paak's song in the movie which kind of goes over the background of the Troll history through his point of view, through a different point of view and it kind of showcases how we do in history in our own lives where people can have different views of how things worked out and I, as a black man myself, as a big fan of hip hop, I love them showcasing like hey, a lot of these things that you love took from our culture, took from what we're about and never gave back. And for them to put that in a big budget movie to showcase to kids and showcase to everyone I think was a great message that diversity matters, peoples voices matter, people's history matters, and it's not just about taking their culture and taking what you like about something it's also then protecting those people's lives and protecting that community and let community thrive."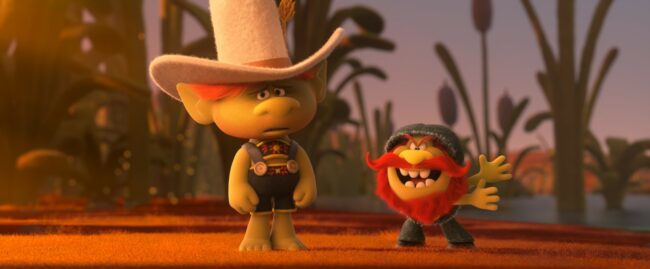 Interview with Flula Borg, "Dickory"
Flula Borg is a German actor, musician, comedian, YouTube personality, and DJ who is also known simply as Flula (sometimes stylized as f|u|a) or DJ Flula. You may know him from one of his several feature films, including Pitch Perfect 2, and a number of popular TV shows, including Curb Your Enthusiasm and The Good Place. He is a RIOT and so fun to interview. Check out our little Q&A…
What do you like best of all the roles you've played in Hollywood: on screen, live stuff you've done, the voice overs — what is your favorite and why?
"That's like if you purchase for me a box of Trader Joe's Vanilla Joe Joe's — and there are 42 in there — and you said select your favorite sandwich cookie, Kim I would say this is rude they are all very delicious. But I would recommend putting them in the refrigerator and waiting for 2 hours and then it creates a nice crunchy snack. But to answer your question in a direct way, which I am not able to do as you know, all of these roles are so very fun and always are very weird and unexpected in sassy ways. And Trolls of course was very fun because they just said, "please enter this room say some things." They did not show me a photo until I started to record some words, just a little bit, and then it was even more fun. It's like if you have some chili then they sprinkle some cumin on it — WHAT?! It's like that."
I want to know what are you binge watching or how are you passing the time during this quarantine? Anything we should watch or listen to?
"I don't know, you shouldn't listen to me probably — they're not recommendations, I will only answer "what am I watching." So I am watching lots of NBA who is the greatest player of all time videos — just watching those on YouTube. I'm watching a show called Atlanta, which I was just now catching up with so I very much love this show. Lakeith Stanfield — WHAT! This man, I mean genius. Oh and also a German show on Netflix called Dark. It's like a Stranger Things meets West Germany or East Germany — Just Germany. I say west because it's '86 so it's pre-wall but anyway…yah, those are some things I'm watching."
Trolls World Tour Activity Pack
Don't forget to make movie time at home MORE fun with the Trolls: World Tour Party Pack complete with decorations, activities, recipes and coloring pages! Download and print to your heart's content!
CLICK TO DOWNLOAD TROLLS: WORLD TOUR PARTY PACK!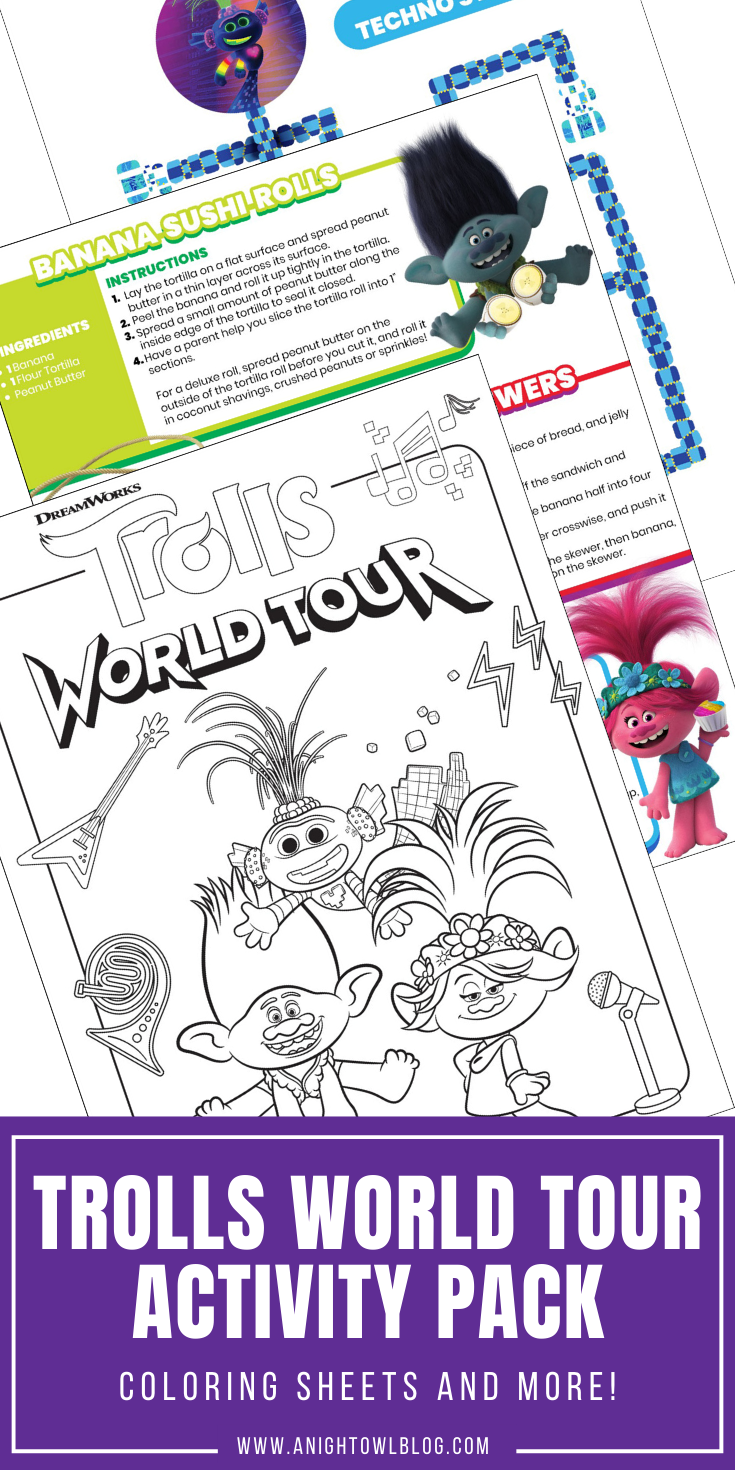 Check out the "How To Draw A Troll" Tutorial Series below:
TROLLS WORLD TOUR – on Digital and Blu-Ray Today!
Official Website | Facebook | Twitter | Instagram | YouTube | #TrollsWorldTour