3 Reasons to See 2 Hearts
Inspired by a true love story, check out our Top 3 Reasons to see 2 Hearts, in theaters now!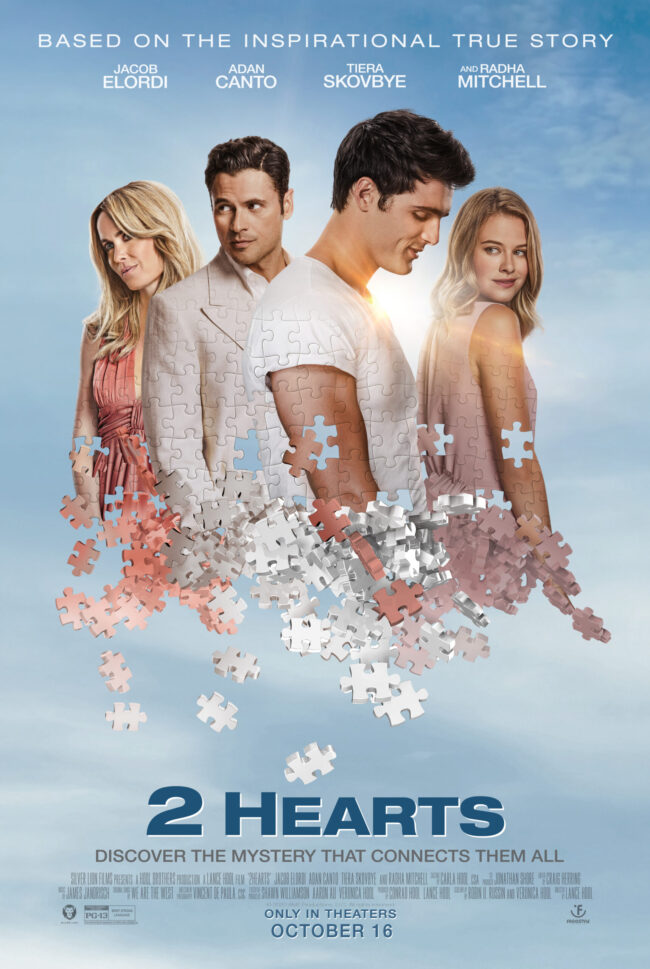 2 Hearts: A No-Spoiler Review
Hi friends! I don't know about you, but I am SO thankful for new movies returning to the big screen! And thanks to my friends at Allied Phoenix I was able to screen 2 Hearts, which is in theaters now…
For two couples the future unfolds in different decades and different places, but a hidden connection will bring them together in a way no one could have predicted. Based on an inspirational true story, 2 Hearts is a romantic journey that celebrates life, love and generosity of spirit, and challenges audiences to believe miracles are possible.
Charismatic young Australian actor Jacob Elordi ("Euphoria," The Kissing Booth) plays Chris, a college freshman whose love for a spirited classmate played by Tiera Skovbye ("Riverdale," "Once Upon a Time") helps him find the purpose he has been searching for.
In another place and time, Adan Canto ("Designated Survivor," "Narcos") plays Cuban exile Jorge, who falls for well-traveled flight attendant Leslie, played by Radha Mitchell (Man on Fire, The Shack).
Though they were never meant to meet, fate has something entirely unexpected in store for both couples that dramatically changes the course of their lives.
It's such a sweet film. Uncomplicated, heart-warming and relatable, it's a movie we could all use right now. Dealing with adversity, overcoming and finding hope at the end. And I think YOU will love it too, here are my top 3 reasons why:
Chris & Sam
If you're drawn to 2 Hearts there's a chance that "Chris," played by Jacob Elordi is what brought you here. After the success of The Kissing Booth, Jacob is definitely on the Hollywood hot list. And in 2 Hearts you are just going to love his character Chris. He is fun, happy and easy-going. But then there is also Sam, played by Tiera Skovbye. Now I recognized Tiera from Riverdale (which my teen nieces have me watch with them) and she does an amazing job as Sam. The chemistry between the two is apparent and they carry on such a sweet relationship during the film.
Jorge & Leslie
While Chris and Sam seem like the typical, met-at-college relationship, Jorge and Leslie — played by Adan Canto and Radha Mitchell — have a love story for the ages. Now true to my non-spoiler promise I won't go into details, but Jorge and Leslie overcome a number of obstacles throughout their relationship that is not only inspiring, but endearing.
Inspired by a True Story
Just when you think the story is too coincidental, too miraculous…you remember that it's all inspired by a true story. And that makes the story just that much sweeter.
THE CONCLUSION?
See it! If you're in a place to head to the theaters, this is a great one to see. If you're not able to right now, earmark this one to download or stream as soon as it's out.
IS IT OK FOR KIDS?
This film is rated PG-13 by the Motion Picture Association of America for brief strong language. I would say this is a good one for teens+ but it does deal with sickness and death so I would be sure that your child is old enough to understand and process loss.
Let us know if you see it and tell us what you think!