Disney and Pixar's Elemental | Global Press Conference and Cast Interviews
Get a behind the scenes look at the making of Disney and Pixar's "Elemental" with interviews with the director, producer, cast and songwriter behind the new animated film.
Disney and Pixar's "Elemental"
Disney and Pixar's "Elemental" is an all-new, original feature film set in Element City, where Fire-, Water-, Earth- and Air-residents live together. The story introduces Ember, a tough, quick-witted and fiery young woman, whose friendship with a fun, sappy, go-with-the-flow guy named Wade challenges her beliefs about the world they live in.
The voice cast includes Leah Lewis as the fiery Ember; Mamoudou Athie as the water-guy Wade; Ronnie del Carmen as Ember's soon-to-be retired dad, Bernie; Shila Ommi as Ember's love-seeking mom, Cinder; Wendi McLendon-Covey as Wade's stormy and Air-Ball-loving boss, Gale; Catherine O'Hara as Wade's welcoming mom, Brook; Mason Wertheimer as Ember's admiring neighbor, Clod; and Joe Pera as an overgrown city bureaucrat, Fern.
Directed by Peter Sohn, produced by Denise Ream, p.g.a., and executive produced by Pete Docter, "Elemental" features a screenplay by John Hoberg & Kat Likkel and Brenda Hsueh with story by Sohn, Hoberg & Likkel and Hsueh. The film's original score was composed and conducted by Thomas Newman. "Elemental" opens with Pixar's all new short, "Carl's Date," in U.S. theaters on June 16, 2023.
Elemental Global Press Conference
We had the opportunity to attend the Global Press Conference for "Elemental" and it was just so inspiring to hear from the Director, Producer and cast of the animated film. Read just a few of the Q&A's that were covered during the conference and interviews…
Lisa Cabello – Moderator

Leah Lewis – "Ember Lumen" (voice)
Mamoudou Athie – "Wade Ripple" (voice)
Peter Sohn – Director
Denise Ream – Producer
LAUV – Singer/Songwriter
Leah, what is Ember like when we meet her, and why is she so confident Fire and Water could never be friends?
LEAH: Wow. So you know, Ember does burn very bright, sometimes a little too bright. [laugh] But there's never a such thing. You know, she's a very fiery, passionate, young, independent woman who is very, very close to her family and, so much so, that she has this dream of wanting to take over her family's shop. And in the beginning, you see why Fire and Water don't really get along. I mean, a lot is at stake for them, just even interacting. I mean, they could literally extinguish one another or snuff each other out. And, you know, that's a pretty big thing. You know, I don't know if I would want to go near someone if our lives were on the line 'cause of that reason. But also, just fundamentally because they're so different, they don't really socialize in ways that they would, I guess, with other elements, and especially Fire, because Fire can, you know, kind of burn everything down.
Denise, can you take us on a mini tour of Element City. As Pete talked about it, I'm visualizing all the different elements, but who lives there, and what is this world like?
DENISE: Well, we have our four classical elements, Earth, Wind, Air, and Fire, and each kind of has their own separate little community. And really, it's a joy to discover. I mean, honestly, I find something new every single time I watch the movie, kind of the richness. The city hall area is our Garden District. The Fire Shop is in Fire Town. And Wade's family lives in this kind of beautiful water area. And we get to go to an air stadium to watch a fantastic sporting event. So there's just a lot of really great dazzling imagery to kind of explore.
LAUV, you got the city. Now we have some music to go with it. What did Pete and the Disney team share with you about the film to inspire your efforts? And what did you hope to achieve with the song?
LAUV: Yeah. I saw, you know, like, early storyboard. I think that's the correct term. Correct me if I'm wrong. And just heard a little about Pete's story and what inspired, you know, him in creating this. And I really related, you know, I am a huge lover, and I really related to like, you know, the love aspect to the film. And I basically, like, you know, was seeing early versions of the scene and kind of wanted to create this song that had this feeling of someone coming into your life and totally changing everything for you, like totally changing the way you see yourself, the direction you see yourself going in, and yeah, that was the goal of the song.
Mamoudou, take us behind the scenes of being the voice of a Pixar character. What's it like? And tell us, is there a favorite moment during the recording process that you have? Because again, you both are so perfect. I hear Water when I hear your voice now.
MAMOUDOU: Oh, that's really sweet. Honestly, it really was a dream come true. I mean, it still is. Like, we get to celebrate this movie. Now we get to talk about it. We get to go to screenings, and we're gonna go to London after this. Well, I guess Denise is already there. So, I mean, the dream continues. But getting into the booth, it's kind of hard to quantify into one moment that was like extra special, because it was all like just — I'm old enough now to really appreciate, like a good thing as it's happening, you know.
So I really was just able to, like, soak it in every time I got to work with Denise and Pete and John and Kat. And I mean, you know, met the animators later and you know, you see their work and you don't [laugh] — it's hard. It's really hard to comprehend what they did. Because, I mean, I have no — I'm a Luddite completely. So it's all like, you know, like, just magic to me.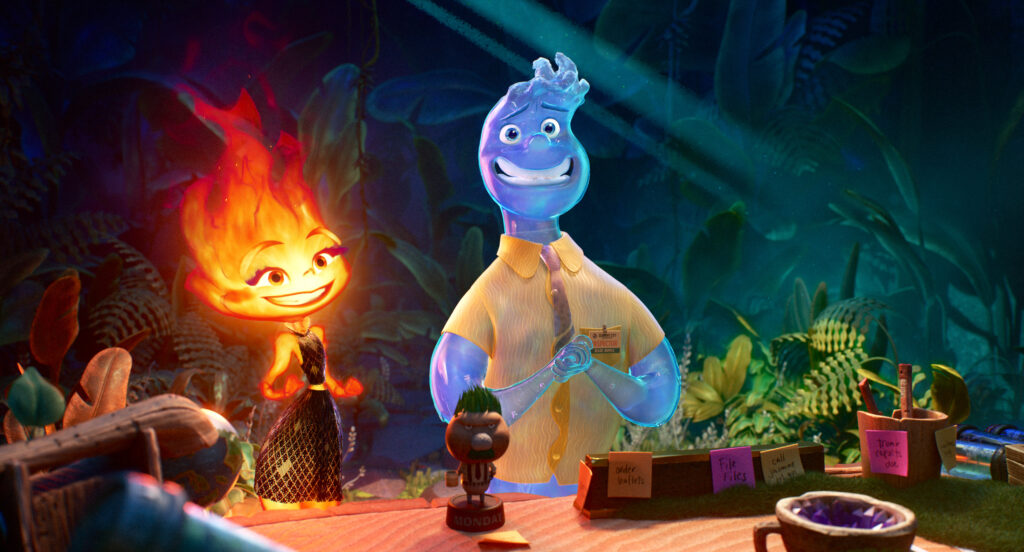 Pete Sohn, I hear that there's a little bit of fire, a little bit of water represented in your personality. So how would you say that you brought yourself to these characters and represent them in such different ways in Fire and Water?
PETE: It was a very layered process. They started off as these really primitive little ideas of like, what you think about Fire as like Leah was talking about. Yeah, they're passionate. You know, they have a creative spark. They're luminous. And for Water, they're transparent. They go with the flow. So it just started off as these simple ideas. But as we started developing them, you know, you just started putting these personal pieces of yourselves. And it wasn't just me. It was an entire crew. And in that openhearted way that Mamoudou's talking about, it really was that experience. It wasn't a cynical journey whatsoever. Everyone was connecting to this fully open.
And so from that sort of like primitive start, all of a sudden, she became this second-generation daughter of, you know, immigrants, and that started layering on top of her passions, on top of her temper, on top of her creative spark. What did all that mean? And then so then, you know, what did that burden mean? How does that connect to the temper? And so it just kept evolving for her. And the same with Wade. It was really like, oh, understanding these two characters were missing something and then trying to find out what they would begin to fill in each other. It started to layer on top of this go with the flow attitude, you know.
The fact that the character was transparent really pointed to like, oh, yeah, he can't hide his emotions. You see right through him. He just wears everything on his sleeve. And then what does that mean, though, in terms of filling this puzzle piece of this relationship, and then this idea of loss for Wade, this idea of privilege for Wade, this idea of his high EQ and the way he connects to the world all started evolving through the story process. And it was a beautiful thing, because the way the writers and the story artists were doing that was a very, very heartfelt gift that they just kept giving these characters.
Disney and Pixar's ELEMENTAL, in U.S. theaters on June 16, 2023.
Facebook: @PixarElemental
Instagram: @pixarelemental
Twitter: @pixarelemental