10 Reasons to See Disney Pixar's Cars 3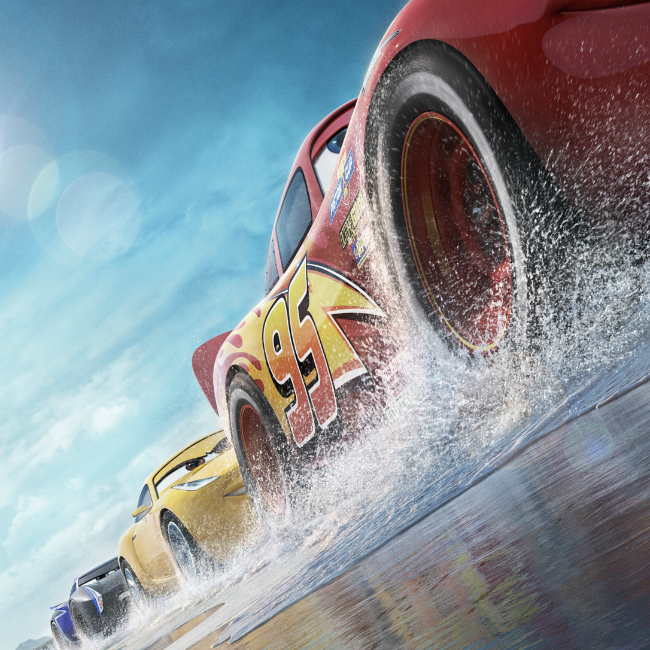 Disney•Pixar's Cars 3 hits theaters this Friday, June 16th! We had the awesome opportunity to see a pre-screening of the movie thanks to our Fingerpaint partners. All thoughts and opinions are our own. From nostalgia to newcomers, check out our top 10 Reasons to See Disney Pixar's Cars 3!
I feel like we've been waiting forever for this. My baby boys grew up with Cars, we've had Cars Birthday Parties. So naturally, we were over the moon excited for the release of Disney Pixar's Cars 3! Just in case you're on the fence, today we're sharing 10 Reasons to see the new film!
1. LOU. To kick things off, right before Cars 3 begins, you get to enjoy a Pixar Animation Studios Short called LOU. When a toy-stealing bully ruins recess for a playground full of kids, only one thing stands in his way: the "Lost and Found" box. We got a sneak peek of LOU and got to meet the writer and Director Dave Mullins (the nicest guy ever) at Disney Social Media Moms back in February and I instantly fell in love. I couldn't wait until my boys had a chance to see it. When I saw a sneak peek of the film on Tuesday, the crowd laughed and cheered. It was so great to hear that because it's such a sweet short film – totally from the heart.
2. Nostalgia.
 Lightning McQueen raced into moviegoers' hearts more than 10 years ago and remains an iconic character today. It was that 10-year period that inspired filmmakers to explore what's next for #95. One of the key goals with "Cars 3" was to
return to the feeling of the first "Cars"
—both emotionally and visually. "I think there's a sincerity and honesty in the first film that we were really trying to capture," says Jeremy Lasky, director of photography-camera. And I think they did just that.
3. Family Fun. I LOVE a film where we can take the WHOLE FAMILY. That's right – all of us me, Andre, AJ, Alex and Adrian headed down to the theater to see the film. I knew that there would be something for everyone in the film. I've heard a few folks say that their younger kids had points where they became uninterested and that is bound to happen sometimes. But I did what any multi-tasking momma would do when Adrian got antsy…had plenty of snacks and drinks to go around. I also loved hearing the sounds of kiddos throughout the theater. I knew there were no judgmental folks around. Don't you love that?
4. Scenery. Lightning McQueen's journey in "Cars 3" takes him from coast to coast, calling for a variety of locations and sets to help propel his story. Artists designed and built EIGHT race tracks for the film: Los Angeles International Speedway, Copper Canyon Speedway (Arizona), Heartland Motor Speedway (Iowa), Motor Speedway of the South, Thunder Hollow Dirt Track, Thomasville Speedway, Georgia Super Speedway, Florida International Super Speedway. I love Radiator Springs, but it was so neat to see so many interesting locations in this film! What's your favorite?
5. Old and New.
 On his journey in "Cars 3," Lightning McQueen crosses paths with NEW and intriguing characters, and filmmakers tapped top talent to bring them to life. Ranging from a fiery trainer who's determined to reignite Lightning McQueen's career to a group of LEGENDS who, back in the day, hit the track alongside the Fabulous Hudson Hornet himself—the characters in "Cars 3" definitely make their mark on the big screen.
6. Girl Power.
 It may sound cliche, but this really is the year of the woman, right? I mean with the summer kicking off with a woman superhero, now we have a Cars movie with some amazing female characters. I won't ruin it for you, but obviously Cruz Ramirez is one you've already heard about. She's a tech-savvy, unconventional trainer at the Rust-eze Racing Center. She expertly arms the team's talented rookies with cutting edge tools to tear up the track. There will be plenty for little girls to look up to in this film!
7. Lessons.
From how you treat your elders, to those who aren't as "good" as you or don't finish first, in true Disney fashion there are plenty of lessons to learn from this film. We had some great discussions with the boys on the ride home.
8. Cameos. Filmmakers recruited NASCAR greats—from rookie drivers and legends to the voices behind the sport—to inspire and help bring the film's characters to life. Chase Elliot provides the voice of Chase Racelott, Ryan Blaney voices Ryan "Inside" Laney, Daniel Suárez lends his voice to Danny Swervez, and Bubba Wallace voices Bubba Wheelhouse. Jeff Gordon is the voice of Jeff Gorvette, Richard Petty once again voices Strip "The King" Weathers, Kyle Petty steps in as the voice of Cal Weathers, and Ray Evernham lends his voice to Ray Reverham. It's great to hear voices you just may know from the track.
9. Soundtrack.
The
Cars 3 Original Motion Picture Soundtrack
features eight tracks—including an original song by Dan Auerbach, an end credit song by ZZ Ward
(my favorite!)
, four covers from a range of artists, and two instrumental tracks from Brad Paisley. The Cars 3 Original Score Composed and Conducted by Randy Newman reunites the "Cars" franchise with the Oscar®-winning composer.
10. Easter Eggs.
 I'm not going to give anything away, but true to Disney fashion, animators love to put hidden Easter Eggs in their movies. Hidden Mickeys (three circles coming together to form Mickey Mouse's silhouette) are probably the most famous of these, but the animators don't stop there. They have a habit of putting characters and items from previous (and upcoming) Disney movies into
other
movies — always in subtle ways. I noticed a few,
I'd love to hear what you find!
Is it ok for children? Of course, it's made for kids, right? Well I'm not giving anything away since it was in the trailers, but there is a crash scene as you may know. Is it concerning to kids? Yes. Do I think it's overly upsetting? I don't think so. I don't feel like the film focuses too much on the crash and they move on and show Lightning ok in the next scene. My 6-year old didn't really react, my 8-year old was most concerned, but a simple hand on his shoulder telling him it would be ok seemed to assuage his concerns. If you are really concerned about how your little one would react, perhaps show them the trailer with the crash scene prior to seeing the movie and explain what will happen and that Lightning McQueen will be ok. Other than that, I think you're A-ok!
I hope you get to go see the film this weekend! I know that it has renewed the LOVE for Cars in my boys and I'm happy to have Lightning McQueen, Mater and more back in our home!
Like CARS on Facebook: https://www.facebook.com/PixarCars/
Follow CARS on Twitter: https://twitter.com/pixarcars
Follow CARS on Instagram: https://www.instagram.com/pixarcars/
Subscribe to the Disney/Pixar YouTube channel here: https://www.youtube.com/user/DisneyPixar
Visit the official CARS 3 website here: https://movies.disney.com/cars-3
CARS 3 is now playing in theaters everywhere!
Like it? Pin it!