Frozen 2 | Interview with Justin Sklar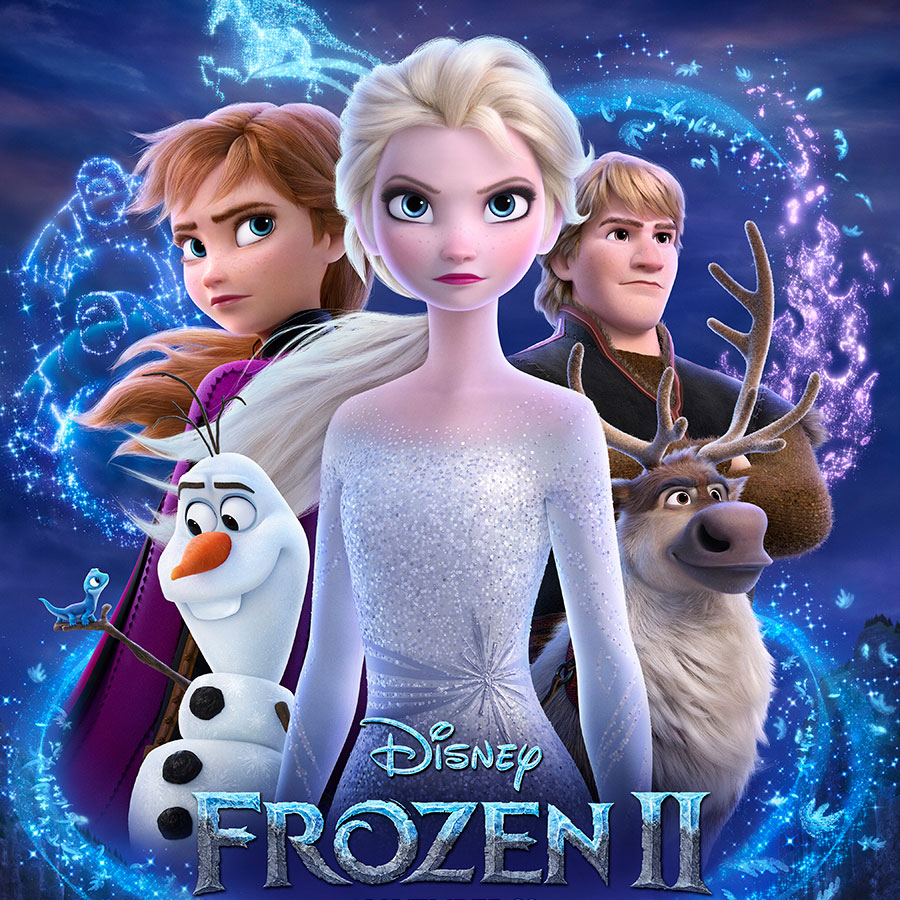 From Costumes to Comedy, you're going to love Disney's new film "Frozen 2". Find out why and check out our interview with Supervising Animator Justin Sklar!
Disney's "Frozen 2"
Hi friends! The long-awaited Disney animated film "Frozen 2" hits theaters on November 22nd and we were lucky enough to snag a sneak peek thanks to our friends at Disney and Fingerpaint Film! Were you a huge fan of the first film? Then you're going to love this one. The first film wasn't on my top list of Disney favorites, BUT I do have to say that I adored this sequel! Yes, even more than the first. So let's chat about why I think you should see it AND check out some Q&A I had with Frozen Supervising Animator, Justin Sklar!
"Frozen 2" A NO-SPOILER REVIEW
Why was Elsa born with magical powers? What truths about the past await Elsa as she ventures into the unknown to the enchanted forests and dark seas beyond Arendelle? The answers are calling her but also threatening her kingdom. Together with Anna, Kristoff, Olaf and Sven, she'll face a dangerous but remarkable journey. In "Frozen," Elsa feared her powers were too much for the world. In "Frozen 2," she must hope they are enough.
You're going to love this film. Why? Let's break it down…without trying to give too much away.
Do you love musicals and the music from Frozen?
Well, songwriters Kristen Anderson-Lopez and Robert Lopez are BACK—and the movie and songs again feature the voices of Idina Menzel, Kristen Bell, Jonathan Groff and Josh Gad, SUCH talented actors and vocalists! The music was phenomenal and catchy and I think "Into the Unknown" is going to take the winning banner of "Let it Go" this time around. Check out the "Frozen 2" Spotify Playlist if you're ok with hearing the songs before the premiere! I know I've had it on repeat!
Did you love the first film?
Then you're going to love seeing your favorite characters return, a little "older" but seasoned and in a different place in their lives. New obstacles, new feelings and new decisions to make.
Do you want to see what's next for the characters?
I've heard so much chatter from what folks wanted to see from the new film, but there was one consistent theme, they wanted to know what's next! And you get SO MUCH of that from "Frozen 2" and for so many of the characters. It's a great next step in the saga.
Do you love comedy?
I have to say that one of my favorite aspects of "Frozen 2" is that it doesn't take itself too seriously, and it surely could have given the box office phenomenon it was the first time around. But the sequel is FUNNY, endearing and will leave you with a healthy balance of giggles and tears throughout.
New Characters.
You'll meet some new characters in this film that keep the series feeling interesting, fun and new. I love the Northuldra, a new people that you meet, and their sense of magic, wonder and connection with nature. And just wait until you meet Bruni!
Costumes.
I'm sure you've seen it a bit in the trailers already, but I loved the costume changes for the characters in the film! I overheard at Fingerpaint that Elsa, "has more costume changes than Lady Gaga."
Do you love Disney animation?
Well, hold on to your hats. They are constantly improving and pushing the boundaries of animation technology and if it wasn't for the larger than life appearance of the characters you likely wouldn't even realize you're watching an animated film! And that's a great segway into our interview with Disney Supervising Animator, Justin Sklar!
Interview with Supervising Animator Justin Sklar
Hired by Disney Animation as a trainee in 2011, Justin Sklar got his first feature film experience animating crowds for "Wreck-It Ralph."  He was promoted to full animator status on "Frozen" and went on to other assignments on "Big Hero 6," "Zootopia" and "Moana."  In his role as supervising animator on "Ralph Breaks the Internet," Sklar helped to guide the character of Ralph, and played a key role in creating the "Ralphzilla" character (who was nominated for a VES Award).  For "Frozen 2" Justin worked with the team on the characters of Kristoff and Matthias from consulting on the rigging and modeling, to leading the animation team.  He observes, "the cool thing about animation is that each movie is like a new puzzle to figure out. It's changing all the time, and no matter what you've done, there's always something new to learn."
What was your favorite part of the new movie?
I supervised Lost in the Woods. We liked that sequence a lot, there was a lot for us to play with there. And since the first movie came out, I've spent a lot of time talking about what does it mean to make an animated musical and how can we do an animated musical performance better and how can we improve our singing animation and stuff like that. So it was very exciting for me to get to supervise such a large part.
So yeah, we spent a long time geeking out about like singing physicality and all that sort of stuff, trying to balance Kristoff being like this human with real feelings and this kind of crazy 80s musical.
Which bands or artists were your inspiration for the Lost in the Woods sequence?
Chicago I know was talked about. I think it was a bunch of stuff. But I think part of it was they just felt like Krisoff, something about Kristoff and an 80s music video made sense.
What was your favorite part of working on Kristoff and Matthias?
For both of those characters, I think I really love looking at what the actors are bringing to the performance in the booth. It was interesting because on the first movie, I don't think we talked about Jonathan Groff, like exactly how he performs a lot. But I think whether we talked about it or not, we immediately picked a lot of it up. One of the first things that I did when I rolled onto this movie was we went through the first movie and picked up all of the Kristoff stuff that we really liked and tried to understand what about it that we liked.
And then we watched hours of Jonathan Groff footage and tried to understand what does he do when he's playing Kristoff? And it's these things where it's like he'll always like resituate himself before he talks; he does a lot of kind of grounding himself and standing in these kind of like leg apart, very grounded poses. And so we really tried to seal a lot of that from Jonathan to really help keep Kristoff feeling like what he felt like in the first movie, but also finding new specific stuff to play with. So that was fun.
What was your interaction like with the actors that play these characters?
We talked with Jonathan a little bit. We brought him into the department to talk about Kristoff and how he feels like things have changed. I only met Sterling once at our recording, but I had spent a long time before that sort of studying how he moves and how his face works. When I met him, I was like, OK, don't talk to him about his mouth. Don't talk to him about how his mouth works. And the only thing I talked to him about was how his mouth works.
But there's a lot of specific things that go on for him. He's got these dimples, he can do this thing that I don't think I have seen on other people where he can kind of smile without moving his mouth corners; he can flex his dimples in his face in such a way that is a smile without moving his mouth. We just live for stuff like that.
What we're trying to do is take 90 people who all act in different ways and find these touchstones where we can make a character consistent but also specific and do something that we don't normally do. So all of those little things where we find something, like one of the examples I keep giving is that if you watch most of our characters, when they talk, you're really only seeing top teeth. A lot of people when they talk, it's top teeth. When Sterling talks, you see both sets of teeth, which we almost never do. But I was like, that's cool. We should steal that because it makes him different and it makes it this thing that we're like, that's specific to Sterling. But it becomes this kind of touchstone that we can all use to keep the character feeling like one character.
Do you feel that production value has evolved since the first Frozen film?
For sure. We're using a completely different render. There's like so much new technology that we brought to this movie since the first movie that gives us the ability to control every single thing that we do. We have to build it from nothing. So we want it to look good. We have the ability to control crazy stuff like the way our render works is we can track every photon that hits a character.
We do a lot of work to control all of that and to not only push the realism of it, but also to to push the design event like we're trying to be very careful with every shape we make, because the reason that we animate these films is because we can design not only the costumes, the characters, the sets, we can also design how they move the design, how they change over time. So there's just a lot of new things that were ready for this one.
A BIG thank you to Justin for the fun interview and to Fingerpaint Film for the opportunity!
THE CONCLUSION?
Get your tickets now! It's a fantastic film that the whole family will love. I know I have already booked opening weekend spots to take my kids, and I have encouraged all of my family and friends to see it right away. Oh and start listening to that soundtrack. Again, I have it on repeat!
IS IT OK FOR KIDS?
"Frozen 2" is Rated PG for action/peril and some thematic elements. Obviously, the film is made with kids in mind and overall I think it's just fine for the littles, but I would say there are some serious themes in the movie (about losing loved ones) that you should be prepared for going in. They are intense and emotional and certainly may cause emotional moments for your little ones and perhaps questions afterwards.
See it THIS week and let us know what you think!