3 Reasons to See The Croods: A New Age
From Humor to Family, check out our Top 3 Reasons to see The Croods: A New Age in theaters now!
The Croods: A New Age — A No Spoiler Review
Hi friends! If you're a fan of the first film, The Croods, then you're going to love to see our favorite cave-people reprise their roles in this fun new film, The Croods: A New Age. We were able to screen it before opening thanks to my friends at Frost Communications and they even sent us a fun Croods Rock Painting Kit!
The Croods: A New Age
The Croods have survived their fair share of dangers and disasters, from fanged prehistoric beasts to surviving the end of the world, but now they will face their biggest challenge of all: another family

The Croods need a new place to live. So, the first prehistoric family sets off into the world in search of a safer place to call home. When they discover an idyllic walled-in paradise that meets all their needs, they think their problems are solved … except for one thing. Another family already lives there: the Bettermans.

The Bettermans (emphasis on the "better")—with their elaborate tree house, amazing inventions and irrigated acres of fresh produce—are a couple of steps above the Croods on the evolutionary ladder. When they take the Croods in as the world's first houseguests, it isn't long before tensions escalate between the cave family and the modern family.

Just when all seems lost, a new threat will propel both families on an epic adventure outside the safety of the wall, one that will force them to embrace their differences, draw strength from each other and forge a future together.
What a FUN movie for the season! If you have fans of the first film in your family, you're definitely going to want to add this one to your must-see list. Here are my top 3 reasons why:
The Talent
The Croods: A New Age features the voice talent of returning stars Nicolas Cage as Grug Crood, Catherine Keener as Ugga Crood, Emma Stone as their daughter, Eep; Ryan Reynolds as Eep's boyfriend, Guy; Clark Duke (Hot Tub Time Machine) as Thunk and Cloris Leachman as Gran. They're joined by new stars Peter Dinklage (HBO's Game of Thrones) as Phil Betterman, Leslie Mann (Blockers) as Hope Betterman, and Kelly Marie Tran (Star Wars: Episode VIII-The Last Jedi) as their daughter, Dawn. This line-up of talent just delivers. 
The Humor
You know we're all hard-pressed to find something to laugh at these days and this movie does just that. In fact, I watched with all of my boys and was so happy to witness all-out laughing at multiple points during the film. But it wasn't just them. We laughed so much that we even enticed "Dad" to come watch with us. It's just a great time to abandon all the seriousness of our current time and enjoy a good movie.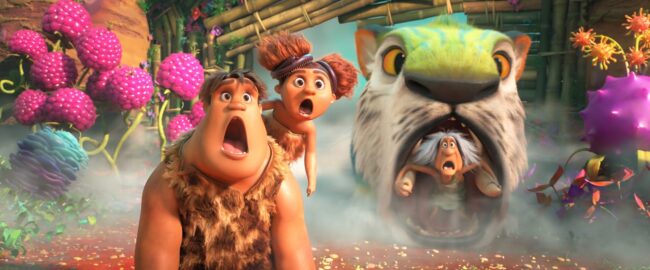 The Family
Something I also loved about the film was the dynamic between Grug and his daughter, Eep. Eep has found a possible mate in Guy and I love how they navigate their father/daughter relationship as they deal with the prospect of Eep leaving "the nest."
THE CONCLUSION?
It's a FUN family flick! If you're in a place to head to the theaters, this is a great one to see. If you're not able to right now, earmark this one to download or stream for the best family movie night as soon as it's out.
IS IT OK FOR KIDS?
This film is rated PG by the Motion Picture Association of America for peril, action and rude humor. It's a great one for the entire family.
Let us know if you see it and tell us what you think!