10 Reasons to See Thor Ragnarok
Thor Ragnarok is now in theaters! We had the awesome opportunity to see a pre-screening of the movie thanks to our Fingerpaint partners. All thoughts and opinions are our own. With extraordinary worlds, amazing new characters and returning favorites –  check out our top 10 Reasons to See Thor Ragnarok!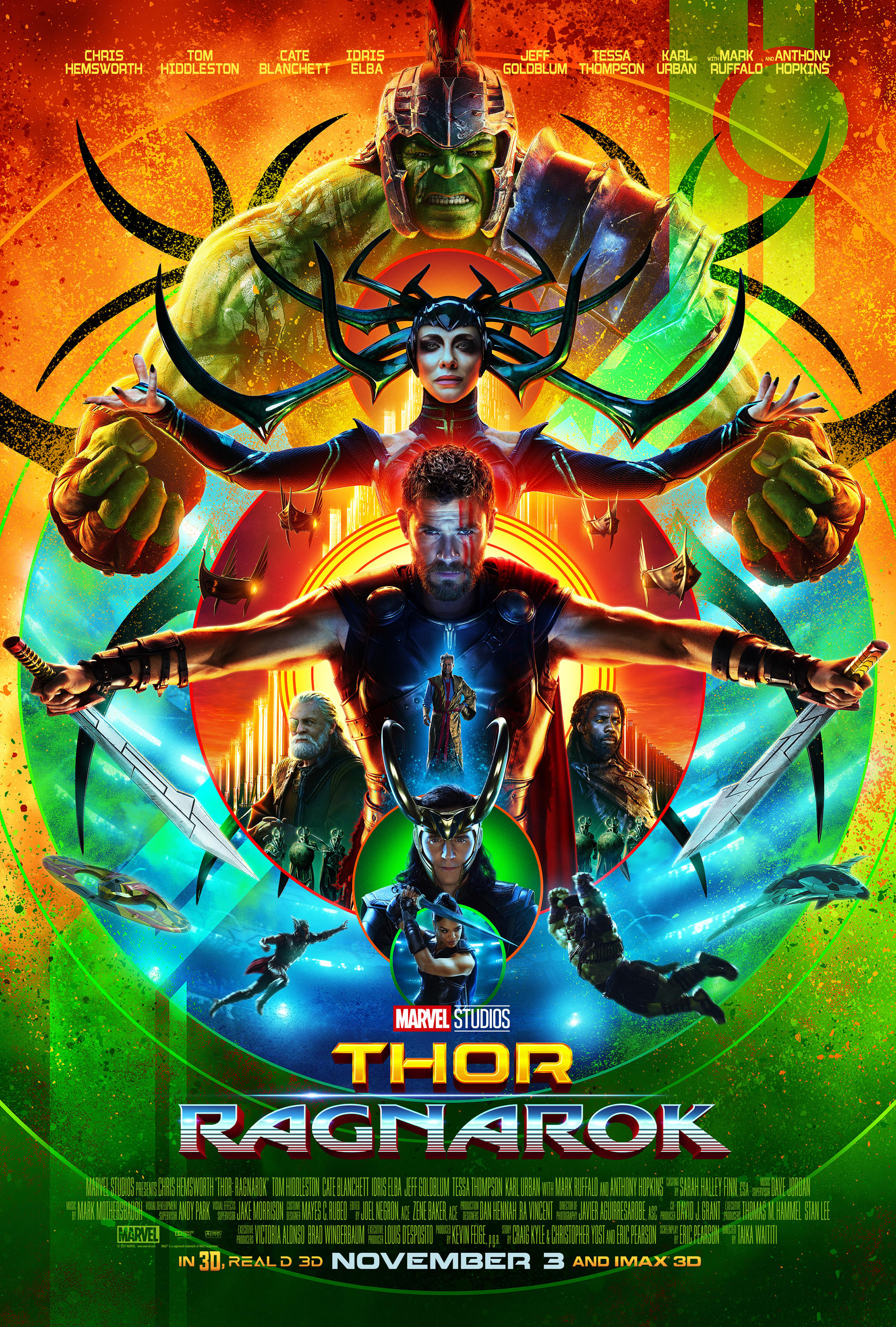 Hi friends! As you probably know by now, Thor Ragnarok has arrived! I don't know about you, but I've been following along with many of my friends who attended the #ThorRagnarokEvent and premiere, getting to see snippets here and there of the movie and could not WAIT to see it. I was lucky enough to get a sneak peek and I wanted to share what I think are the top 10 Reasons to see the film:
Extraordinary Worlds. "Thor: Ragnarok" was filmed mostly in Australia's Gold Coast, in the state of Queensland on the continent's east coast south of Brisbane. Bringing life to the colorful planet of Sakaar, which is ruled by the Grandmaster (Jeff Goldblum), was one of production designers Dan Hennah and Ra Vincent's most important tasks. Once they began assembling the art department staff of scenic designers, art directors and illustrators, they created a gallery of artwork using many of creator Jack Kirby's wondrous comic book panels. The artwork adorned the walls of not only their office but the en􏰀re department space. The display served to illustrate Kirby's magic on the page while also encouraging the production design staff as they worked to capture the feeling of Sakaar.
Costumes. One of the first tasks costume designer Mayes C. Rubeo had to take on for "Thor: Ragnarok" was creati􏰀ng costumes for the denizens of the planet Sakaar. "We had to create a new world with Sakaar, never-before-seen in the Marvel Cinema􏰀c Universe," says Rubeo. "It was somewhat puzzling to look at all the images from Jack Kirby and translate his concepts from paper into reality, into a live-acti􏰀on movie. We did a lot of research and development. In the end, we were all happy about what we achieved and hopefully did jus􏰀ctice to the Jack Kirby world."
Visual Effects. VFX supervisor Jake Morrison, who worked on both prior "Thor" movies, states that the third installment "is a very different picture. For starters, we're going back to the comic source a lot more, sourcing a lot more of the Stan Lee/Jack Kirby stuff and really ge􏰃tting into some of that initi􏰀al artwork. We had Taika, who's an amazing secret weapon as well. An ar􏰀tist in his own right. It was incredibly exci􏰀ng to sort of let him loose and see some of the stuff that he was putti􏰃ng together for these worlds."
Thor. He's back! And maybe better than ever – AND funnier. When an ancient evil, lurking for eons, is released from its shackles, Thor finds himself in a serious situation. The Asgardian prince is imprisoned on the other side of the universe without his mighty hammer just as Asgard needs him now more than ever. With his kingdom shattered, Thor's only hope is to summon the warrior within, and fight his way back against impossible odds to save his people from Ragnarok.
Loki. Get ready for a ride, I loved Loki in this film! Disguised as his father, Odin, Loki has taken over Asgard as its king. However, when Hela makes her terrifying grand entrance, Loki must use his silver tongue and skill with a blade to bale for his own survival.
Hulk. Last seen rockeng into outer space aboard the auto-piloted Quinjet after the Battle of Sokovia, the Incredible Hulk has been missing without a trace. His whereabouts are finally uncovered when Thor stumbles upon his powerful ally in the unlikeliest of locales—a cosmic gladiatorial arena on the other side of the galaxy. Reveling in the people of Sakaar accepting him as their champion of the arena, Hulk is reluctant to relinquish control to Bruce Banner, who will undoubtedly return him to his former existence on Earth. With a cosmic threat looming, the Incredible Hulk and Bruce Banner will clash over who is needed most in the fight for the fate of the universe.
Hela. Kate is certainly a welcomed addition to this crew. A creature from a sinister and long-forgotten era of the universe, Hela's power is unlike anything else in the Nine Realms. Armed with the ability to unleash unlimited weapons in astounding and deadly ways, Hela is now back to seek vengeance on those who cast her out. With a mysterious and savage army at her side, Hela intends to usher in a new era of cold brutality for Asgard and the universe at large.
Valkyrie. Get it, girl! Valkyrie was one of my favorite characters in this movie and is a tough-as-nails galactic scavenger with a mysterious past. After a tragedy left her life in tatters, Valkyrie disappeared to a corner of the universe where she could forget her past. Now, with the universe in peril, she must put her history behind her and join forces with Thor and Hulk to save Asgard in its darkest hour.
Heimdall. I love that we see Heimdall more in this film! Armed with his incredible broadsword and the ability to see anywhere in the universe at any given moment, Heimdall, one of Asgard's fiercest warriors, must defend the people of his home world from Hela and her sinister plans.
Grandmaster. Enter Jeff Goldlum. The exuberant and dangerous ruler of Sakaar, a distant planet built on chaos and indulgence, the Grandmaster controls an incredible gladiatorial contest in which Thor and other powerful beings from throughout the cosmos face off in spectacular and deadly combat. There is no contender the Grandmaster covets more than the champion of the arena, the Incredible Hulk.
You're going to love this film! I sent my boys right away to see it and they said the same! They laughed so hard and had so many good things to say. My husband Andre said "finally Thor is Thor". He loved seeing more of Chris' comical side and said that is was so true to the comic book character.
Is it ok for kids? Now my 6 and 8 year old boys saw it and they were just fine with it. There is some violence and fight scenes and Hela is well, pretty brutal so if your kids are sensitive to those types of films I would screen it first before letting them see. My boys have seen most Marvel movies so I knew they would be just fine.
I hope you go see it – be sure to tell us what you think. Best Thor movie yet?! It just may be.