Instant Family | Interview with Sean Anders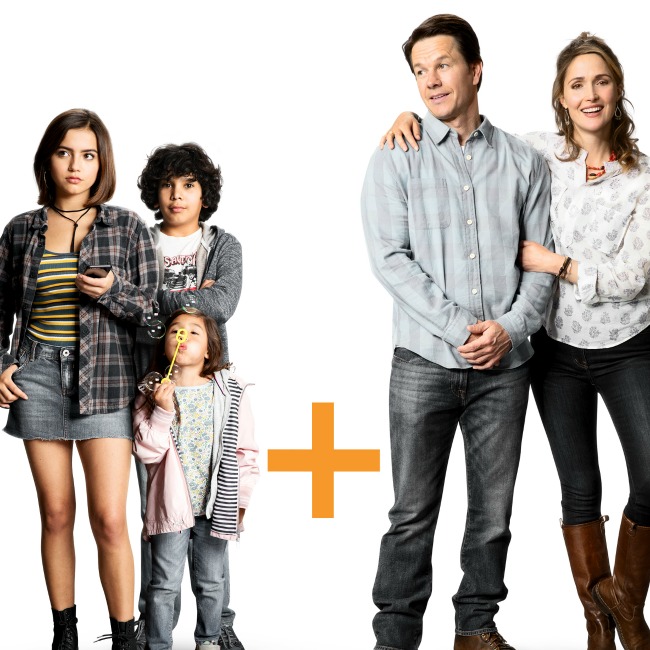 In theaters now, go see Instant Family, a sweet film about a couple who decides to start a family and stumble into the world of foster care adoption.
Instant Family Movie Review
Hi friends! A couple of weeks ago I had the opportunity to screen Instant Family, a sweet film about a couple who decides to start a family and stumble into the world of foster care adoption. Thanks to our friends at Allied Global Marketing, I also had the opportunity to interview Instant Family Director, Sean Anders! Sean used to live in AZ (where I live) it was a great local connection. This film is also a very personal story for Sean as he and his wife adopted 3 children together, which the movie is based on!
I have to say that I absolutely LOVED the movie! It was sweet and relatable, heart wrenching and heart warming all at the same time. I saw it with my sister in law Janice and she put it perfectly: you laughed just as much as you cried. As a mother of three, I could relate to so much during the film and it was also an amazing insight into the world of foster adoption.
Instant Family
Here is a little about the film:
When Pete (Mark Wahlberg) and Ellie (Rose Byrne) decide to start a family, they stumble into the world of foster care adoption. They hope to take in one small child but when they meet three siblings, including a rebellious 15-year-old girl (Isabela Moner) they find themselves speeding from zero to three kids overnight. Now, Pete and Ellie must hilariously try to learn the ropes of instant parenthood in the hopes of becoming a family. INSTANT FAMILY is inspired by the real events from the life of writer/director/producer Sean Anders, also starring Octavia Spencer, Tig Notaro and Margo Martindale, Julie Hagerty and Michael O'Keefe.

Anders began writing INSTANT FAMILY with co-writer/producer John Morris in between their global smash hits DADDY'S HOME and DADDY'S HOME 2. In those two films, while delivering blockbuster laughs, the duo showcased their gift for presenting the nuances of the modern, blended family. With INSTANT FAMILY, Anders pushes the possibilities of the blended family, as the film's lead character Ellie aptly puts it, "to next level shit".

As poignant as it is funny, as heartwarming as it is authentic, INSTANT FAMILY celebrates the notion that a family can come from anywhere. Opening Thanksgiving, INSTANT FAMILY is a comedy that teases your funny bone, tugs at your heart, sneaks up and surprises you, coaxes your tears, gets under your skin and moves in to live with you for a while, just like kids.
Interview with Director Sean Anders
As I said earlier, I had the awesome opportunity to interview Director Sean Anders and Screenwriter John Morris.
ME: Were there aspects that the actors brought to the film that you didn't write or that wasn't necessarily part of your story? Did they have any experiences that they brought into the story?
SEAN: Mark Wahlberg has a teenage daughter who's exactly the same age as the movie and also has younger kids. So Mark was very much in that world of having a teen daughter but also you know having smaller kids as well. So he had a lot of experiences with that kind of handle that and how that can kind of drive you crazy sometimes. And Rose, her kids are small, she had just had her second child very shortly before she joined us just a couple of months before she joined us. So Rose was was really in the thick of really becoming a mom, you know in the process. She had, I think her her other child was 2 to 3 just so yeah yeah yeah kind of too pretty almost back to back. So she was very much in the mindset of parenting.
ME: I thought the dynamic with kind of the extended family was really interesting in the film – to see kind of who's supportive and how supportive and what their feelings were. Did you have those same experiences? Were your family and friends supportive?
SEAN: We had both. We heard different comments from different people, different cautionary tales. And then when we met with other families, you know as we were working on the script, they had those stories about people who either said things to their face or they had found out that people had been kind of negative about it behind their back. And the thing is, people are understandably worried when somebody that they love is going to go down a path that they think might be a difficult one.
But I think what I've been saying for a while is that when you get pregnant and you announce to everybody that you're going to have a baby, nobody ever says "you know you should be careful because I think you grow up and be a drug dealer." You know we hear that. And it can totally happen. And it does. But unfortunately when when people go the route of foster care a lot of people tend to make those kinds of warnings and have those kinds of fears and it spreads negativity on something that is incredibly positive. So that was another message of the movie is that I hope that people come away from the movie with a better understanding, so that if somebody you know does get involved that they won't have as much of a tendency to spread that negativity and to be more supportive.
See Instant Family in Theaters NOW!
Making plans for the weekend? Snag your tickets to see Instant Family NOW! It's such a fun, funny and heart warming film that really helps to set a better tone for foster adoption. You won't regret seeing it one bit! Be sure to let us know if you go and what you think!
Like INSTANT FAMILY on Facebook: https://www.facebook.com/InstantFamily
Follow INSTANT FAMILY on Instagram: https://www.instagram.com/instantfamily
Follow INSTANT FAMILY on Twitter: https://twitter.com/instantfamily