Pixar Onward Coloring Pages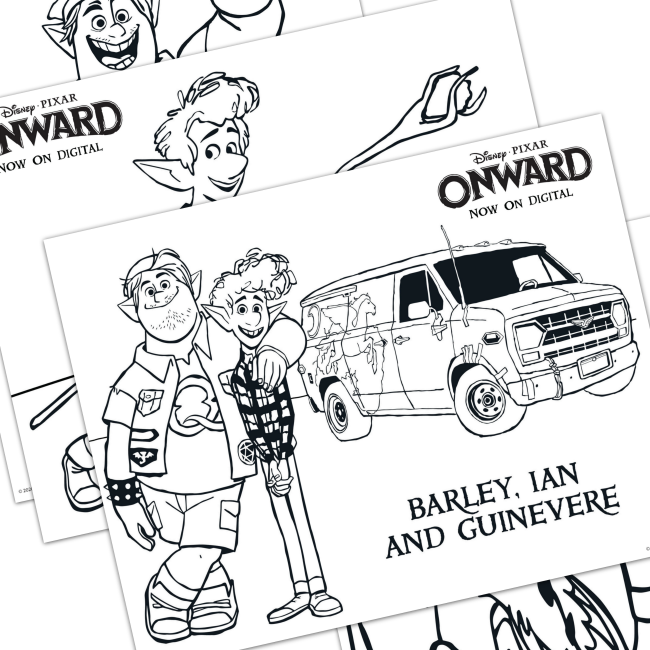 Hot off the presses! If your kids are excited about Pixar Onward coming to Disney+ April 3rd, download these FREE Disney Pixar Onward Coloring Pages today!
Pixar Onward Coloring Pages
Hi friends! Have you heard the GOOD NEWS?! Pixar Onward is headed to Disney Plus on April 3rd! I don't know about you, but that is music to my ears. Being cooped up in quarantine has its downsides, but getting to see NEW Disney movies on Disney+ early is just so generous of Disney.
Pixar's Onward Coming to Disney Plus
We had a chance to screen Onward in theaters during our Disney Creators event AND thanks to our friends at Fingerpaint Film, I also took our little one to see it upon our return. This movie is really great for ALL AGES and I hope you're looking forward to streaming it from home as much as I am! Now click the link below to download, print pages and color to your heart's content!
CLICK TO DOWNLOAD PIXAR ONWARD COLORING PAGES!
Set in a suburban fantasy world, "Onward" introduces two teenage elf brothers, Ian and Barley Lightfoot (voices of Tom Holland and Chris Pratt), who embark on an extraordinary quest to discover if there is still a little magic left out there. Also featuring the voice of Julia Louis-Dreyfus as Ian and Barley's mom, Laurel Lightfoot, and Octavia Spencer as the voice of the Manticore, Pixar Animation Studios' all-new original feature film is directed by Dan Scanlon and produced by Kori Rae—the team behind "Monsters University."
For More Disney Coloring Pages, Check Out:
For Fun Movie Treats, Check Out: