10 Reasons to See Guardians of the Galaxy Vol. 2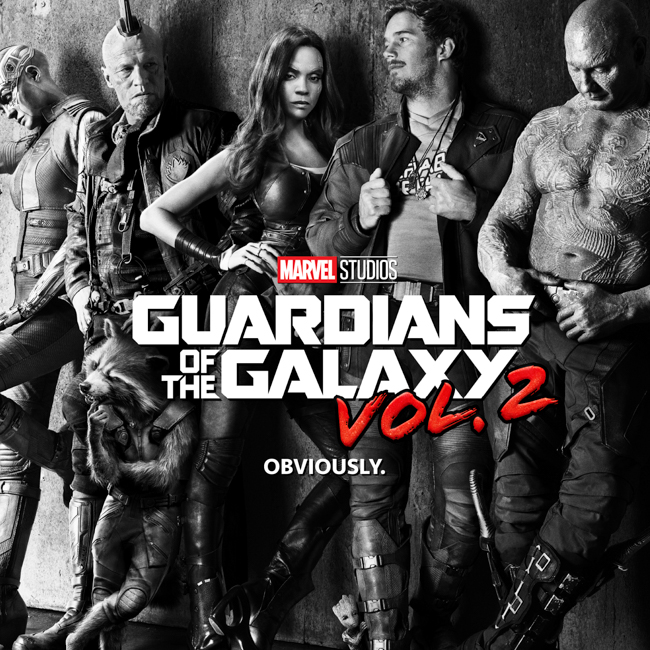 Marvel's Guardians of the Galaxy Vol. 2 hits theaters this Friday, May 5th! We had the awesome opportunity to see a pre-screening of the movie thanks to our Fingerpaint partners. All thoughts and opinions are our own. From comedy to cinematography, check out our top 10 Reasons to see Guardians of the Galaxy Vol. 2!
Hi friends! Are you a fan of Guardians of the Galaxy? My boys loved the first movie so naturally we're all excited that Guardians of the Galaxy Vol. 2 releases this week! We have our tickets purchased for opening night, but LUCKY ME, I got to see an advanced screening of the movie LAST NIGHT! And let me tell you guys, I might have just loved it even more than the first. Eeek, it's so hard to decide, but Vol. 2 is such a FABULOUS mix of action, humor and endearment that you're going to want to get down to the theater opening weekend to see it!
Need some convincing?
Let me go over what I think are the top
 10 Reasons to See Guardians of the Galaxy Vol. 2:
1. COMEDY. I love a movie that makes me laugh. Don't you? And this one certainly fits the bill. In fact, I can't remember being in a movie theater when a crowd has laughed MORE during the movie than I did last night. Just be warned – hold on to that popcorn, there are moments that you'll get a good hearty belly laugh from this film.
2. SOUNDTRACK.
Something that the first Guardians of the Galaxy was known for was the soundtrack, and this film was no exception. From Sam Cooke to to Cat Stevens, you'll be reminded of summers of your youth. Ok, maybe not your kiddos – so maybe the soundtrack is just for us. And I'm ok with that. And if you want to jam out to some oldies before the movie,
you can stream the soundtrack here
!
3. BABY GROOT.
So I'm going to touch on ALL the characters in the film, but by far and away Baby Groot stole the show for me! I mean, he's SO STINKING ADORABLE. From his cute little voice to his attitude, you're going to fall in love with this little guy.
4. CHARACTERS.
Ok, so the classics are back with Starlord, Gamora, Drax, Rocket and of course now Baby Groot. And you'll grow to love them even more! But I think what was perhaps more interesting was the addition of new characters and development in smaller characters from the first film.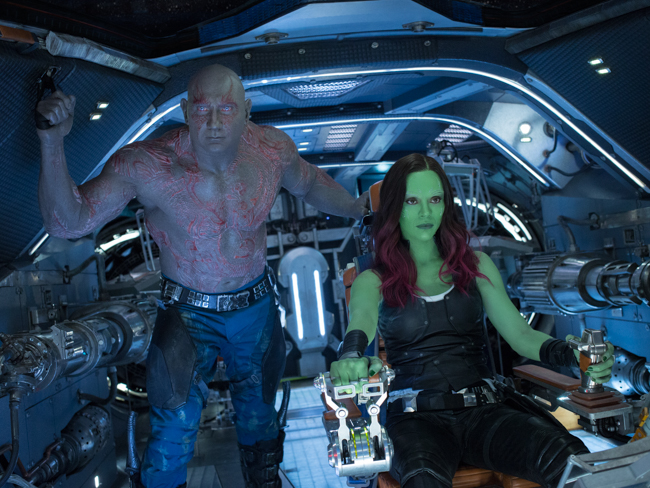 5. COSTUMES AND MAKEUP.
Hours and hours of makeup and costuming go into each of these characters and the fruit of their labor can be seen! From Drax's impressive tattoed physicque to Gamora's gorgeous green hue, each character is a work of art. I loved to see how they pushed the envelope with some of the new characters you'll meet this time around. Just unreal!
6. ACTION.
I was reading that the actors in this film were able to do more of their own stunts this time around and you could surely tell! The action and fight scenes were intense! If your family loves action movies, they're sure to love Guardians of the Galaxy Vol. 2. It'll keep you on the edge of your seat!
7. CINEMATOGRAPHY.
Just WOW. The opening fight sequences will have your eyes opening WIDE to take it all in. The bright, colorful cinematography of the film will captivate you and keep you wanting more!
8. FAMILY.
You'll find that a common thread in the film is family and I loved every minute of it. Our favorite Guardians of the Galaxy take on human traits and emotions when they realize we're all linked in some way by the bonds of love and family. I will admit I got teary at times.
Maybe it was just the onions though. 
9. THROWBACKS. I won't spoil anything for you but keep your eyes peeled for some FUN cameos and throwbacks in the film! There were noticeable times that the audience gasped, laughed and clapped – you'll have to let me know if you notice them too! Again – this one is probably just for the adults.
10. FOMO. Yes, I said fear of missing out. I was so excited about the movie last night that I about drove my husband nuts trying to talk about it but NOT give away anything. So I have a feeling that this movie will get people talking and you don't want to miss out. Don't let others ruin it for you!
So there you have it: my TOP 10 Reasons to See Guardians of the Galaxy Vol. 2. Now for some additional notes since I'm sure you're wondering.
Is is ok for children? Now my boys have seen the first film, and because I've seen so many movies with them, I have a good grip on what they're comfortable with. First, there is certainly violence in the movie and you will witness people being killed. Quite a few, actually. So if your kiddos are sensitive to that, please be aware. Second, there is some adult humor. My boys may just be on the cusp of understanding some of it, so I'm sure they'll gloss over it. But it's there, I've given you fair warning. Third, there is some language. Overall, I didn't find it to be overwhelming or any more than some movies we've seen in the past so I don't think it's a non starter but something you'll likely notice.
I'm so excited to take my family to see Guardians of the Galaxy Vol. 2 tomorrow night! Do you have your tickets? Be sure to snag some now for opening weekend, you're going to want to see this one!
Like it? Pin it!