10 Reasons to See Disney's Beauty and the Beast
Disney's Beauty and the Beast hits theaters this Friday, March 17th! We had the awesome opportunity to see a pre-screening of the movie thanks to our Disney partners. All thoughts and opinions are our own. So check out our Ten Reasons to See Disney's Beauty and the Beast: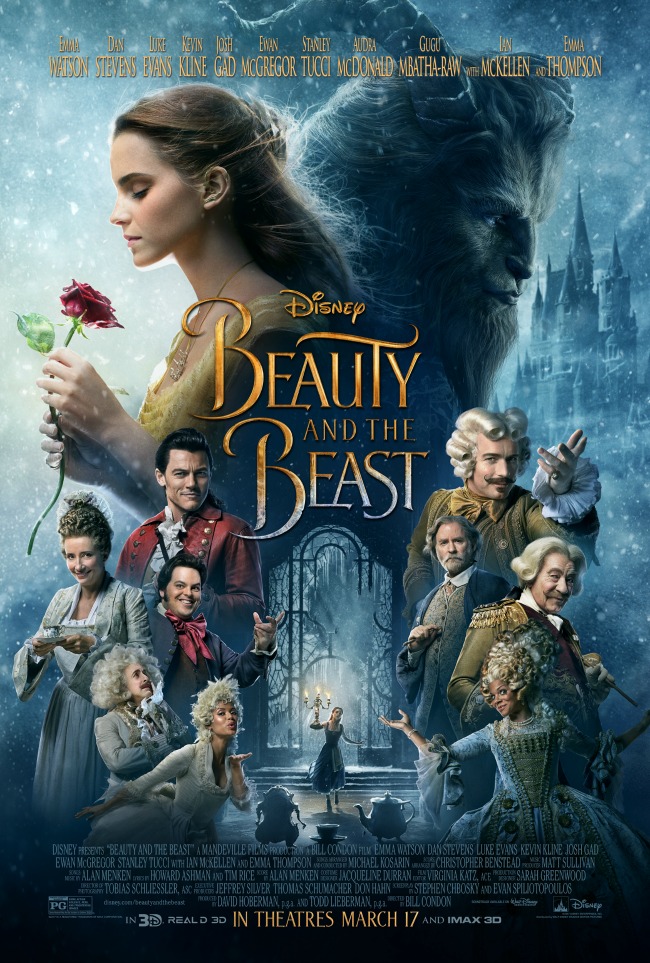 Hi friends! I had the awesome opportunity to see a pre-screening of
Disney's Beauty and the Beast
that hits theaters this Friday, March 17th! In a live-action adaptation of the studio's animated classic, the story and characters audiences know and love are brought to life in this stunning cinematic event…a celebration of one of the most beloved tales ever told. There has been so much buzz around the film and I'm happy that most of it has been positive because let me tell you, the film is amazing!
I thoroughly enjoyed it.
If you're on the fence, maybe I'll convince you to make the trip down to the theater to see it. Let me break down the reasons WHY it's a must-see…
1. NOSTALGIA.
Not to give away my age, but let's just say that I can remember when Disney's animated feature of Beauty and the Beast came out in 1991. And if you're like me, then you fell in love with the film, its characters and its notable music. If anything,
if you loved the animated feature
, I feel like you kind of owe it to your younger self to see the live-action film just to see how they have pulled it off. Oh and they have,
in a big way
.
2. BELLE REVISITED.
If you're an Emma Watson fan, you'll surely be interested in her take on Belle. I loved Belle's character in the animated feature, but you didn't really get to know her all that well before she is introduced to The Beast. In this film, Emma has given Belle more depth of character, transforming her love of books into a love of knowledge and understanding how things work, helping her father with his inventions and coming up with a few of her own.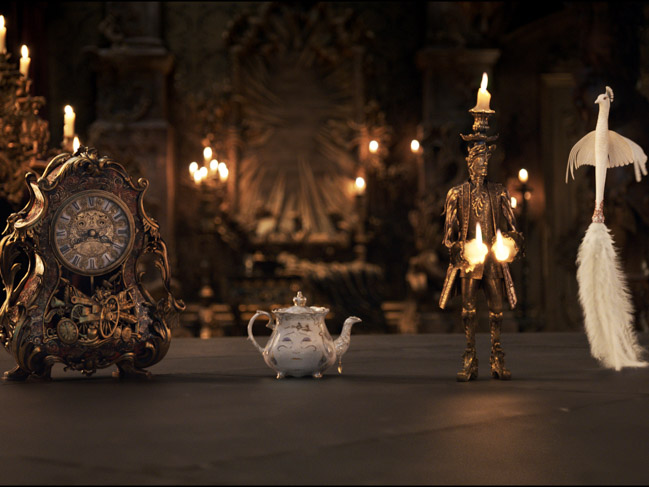 3. THE CAST.
What an awesome ensemble! I really feel like the casting for the film was on point. Beyond Belle and The Beast, Luke Evans and Josh Gad as Gaston and LeFou were brilliant!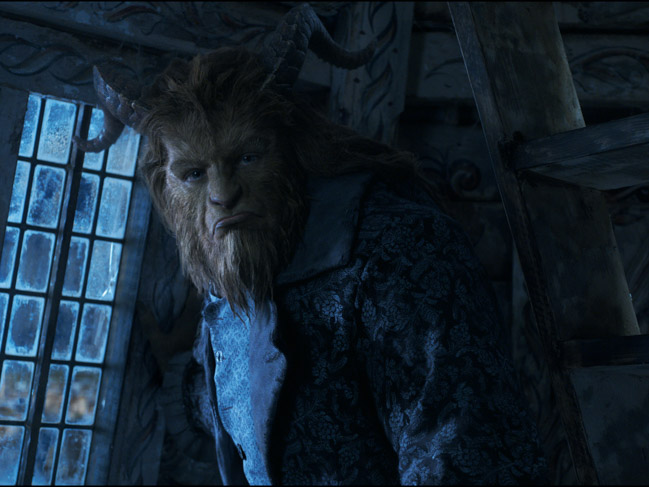 4. THE BEAST.
I think one of my main concerns going into the film is how they would portray The Beast. Could they make his character believable? Rough and tumble, yet find a way to woo Belle and the audience as well? In the end I think they did a fantastic job of it. The Beast was full of expressions – tough yet vulnerable. I think you'll love to see his character.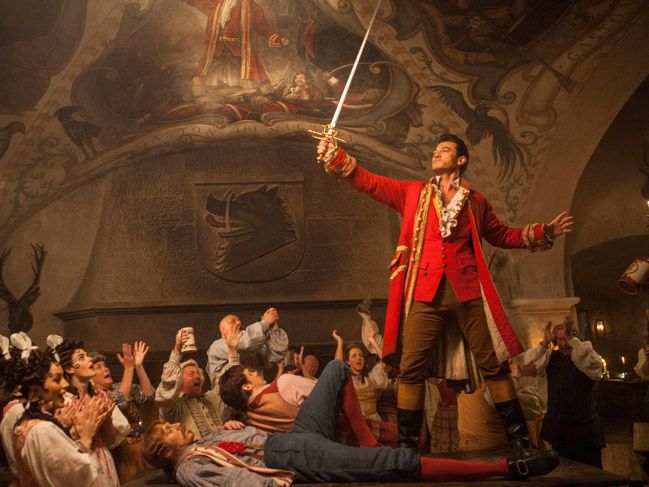 5. THE MUSIC.
Alan Menken has done it again! As the original composer for the 1991 animated film, as well as the composer for the Broadway adaptation, Alan was the natural fit for the film and brought depth and authenticity to each score.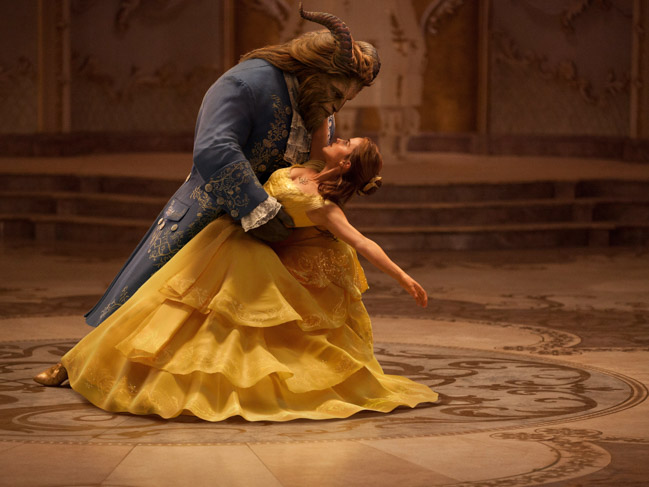 6. THE COSTUMES.
Just fantastic. That yellow dress that Belle wears during the ballroom scene is mesmerizing! I remember just staring as she twirled round and round at how beautiful it was! The costumes throughout the film were on point! From The Beast's various get ups to all of the supporting cast, costumes were so well done. I wouldn't be surprised in the least if there were award show nods next year for costumes for this film.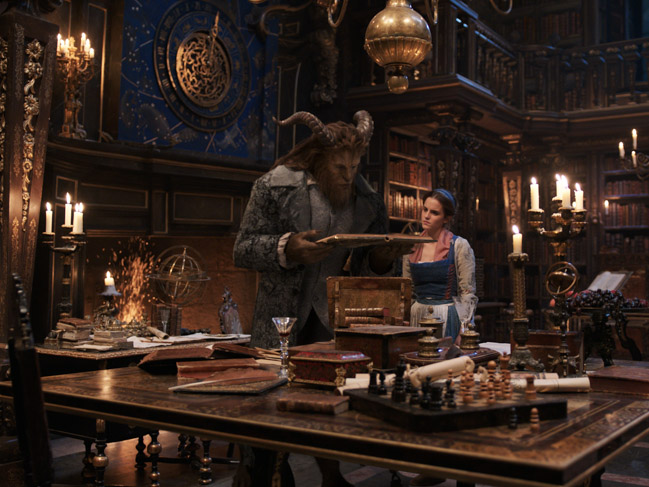 7. THE SETS.
Can you believe that they built Belle's little French provincial town from scratch?! The crew surveyed numerous French villages and combined their favorite aspects of each into the quaintest little village you ever did see. You'll wonder why Belle would ever want to leave until you enter the realm of The Beast. The forests surrounding the castle are stark and harrowing, but the castle once it comes to life is so grandiose and breathtaking. It's no wonder that the cast enjoyed their time filming there! Oh and the library, well let's just say it's every book-lovers dream!
8. MORE STORY.
I won't give anything away, but I love how this live-action adaptation didn't change any of the animated story but rather expanded on various aspects and brought depth to the story.
9. NEW SONGS. What a treat! The music in the film is already notable, but there are some new gems added in! So sit back and enjoy Be Our Guest, but take note of new scores that will quickly win you over.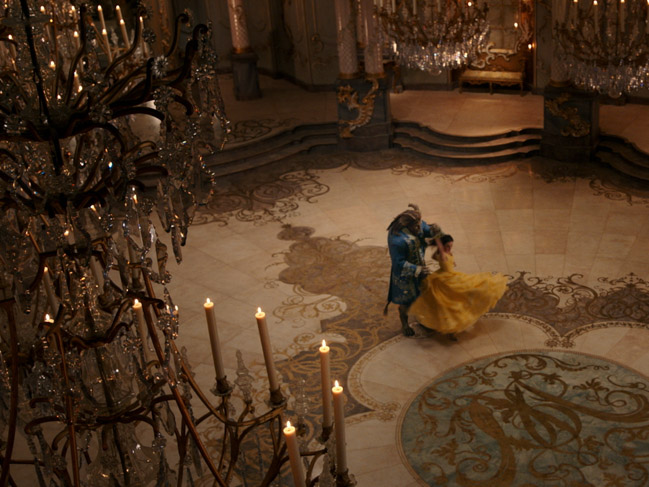 10. IT'S AMAZING.
Honestly, I loved each and every minute of this film and I can't wait to see it again opening night with my family! I know it will be a blockbuster hit, it's not just hype. There is so much to see and hear and discover with this beloved tale as old as time.
IS IT FOR KIDS? I know many of you might be wondering whether or not to take your children. I would say if they have seen the animated film and enjoyed it, then they may already be comfortable with the storyline and you might have a good indication of whether or not it's a good fit. If they are sensitive to frightening images, the scene with The Beast and the wolves might be a bit much for the younger ones. I will be taking my older boys (6 and 7) opening night and I think they'll do just fine. But it is really up to what you think your children can handle.
COUNTING DOWN THE DAYS? Download these Beauty and The Beast Coloring Pages!
WANT TO MAKE THE EVENT MORE SPECIAL?
Send a personalized invitation to your family and friends via Punchbowl.com
! 
This is the newest addition to The Disney Online Invitation Collection Punchbowl launched in 2014, and is
perfect for Disney fans who want to invite friends to see the premiere together.