Trying | Interview with Rafe Spall & Esther Smith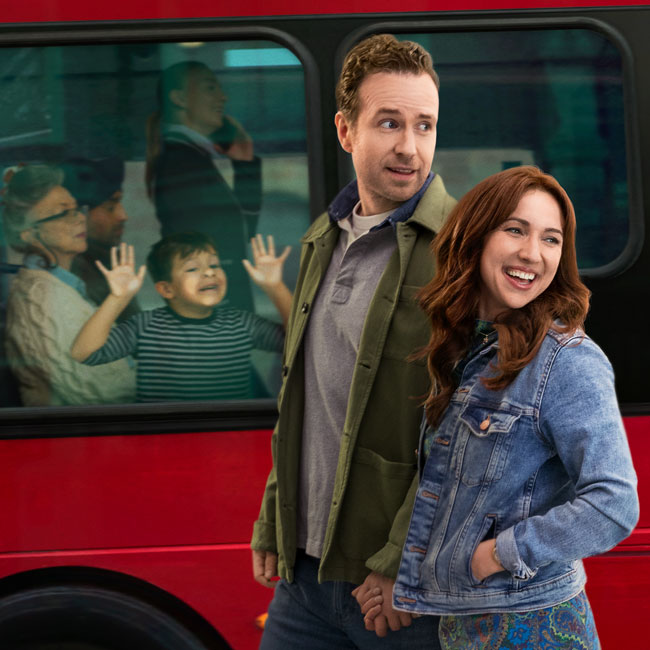 A new comedy series about growing up, settling down and finding someone to love, sit down with us as I interview Rafe Spall and Esther Smith, stars of "Trying," now streaming on Apple TV+!
Trying on Apple TV+
Hi friends! If you're like me, then you love to come across a new, binge-worthy show to stream. And I've done just that! Thanks to our friends at Allied Phoenix and Apple TV+ Press, we had the chance to screen Trying on Apple TV+ and do an interview with the main characters, Rafe Spall (Jason) and Esther Smith (Nikki). So I'm going to share that Q&A with you and tell you what I think of the show! Let's dive in…
Trying Season 2
"Trying" season two debuted exclusively on Apple TV+ on Friday, May 21. The eight-episode series, which has been renewed for a third season, will premiere with the first episode, followed by new episodes weekly, every Friday.
In season two, "Trying" follows the continuing journey of Nikki (Esther Smith) and Jason (Rafe Spall) as they navigate the adoption process. Having been approved by the adoption panel they now find that matching with a child is not as straightforward as they had hoped. It seems like children are being snapped up by other couples while somehow they're being left behind. Helped by their eccentric social worker Penny (Imelda Staunton) they are determined to do everything they can. When Nikki meets a little girl called Princess at an adoption event she knows instantly that this is the child for them. But there are obstacles to Nikki's plan that may prove insurmountable.
Season two also stars Ophelia Lovibond ("Elementary," "W1A"), Oliver Chris ("Motherland," "Four Weddings"), Sian Brooke ("Sherlock," "Good Omens"), Darren Boyd ("Killing Eve," "Luther") and Robyn Cara ("Life," "Ackley Bridge").
"Trying" is Created, Written and Executive Produced by Andy Wolton, Directed & Executive Produced by Jim O'Hanlon ("Catastrophe," "The Punisher"), Produced by Sam Pinnell, ("Motherland,""Derry Girls"), Co-Produced by Tim Mannion & Executive Produced by Josh Cole, and is produced by BBC Studios.
Interview with Rafe Spall & Esther Smith
I'm so happy to have had the chance to sit down and chat with Rafe and Esther. The characters they portray on Trying are just so likable and it was great to be met with the same level of humor and friendliness during the interview. So take a look at our video chat or read the Q&A transcript below!
[adthrive-in-post-video-player video-id="iCiTVI5e" upload-date="2021-07-05T23:53:25.000Z" name="A-NIGHT-OWL-BLOG_06-02-2021_TRYING_ESTER_RAFE_PIN1_GALLERY.mp4″ description="null" player-type="default" override-embed="default"]
The subject of the show, infertility and adoption isn't covered much in shows or movies, why do you think it's important for a series like Trying to be made?
Rafe: Yah I think that's a very good point that it isn't a thing that is represented much in the media or culture or art—it's still a taboo, the idea of infertility. Seeing as though it's up there as one of the most difficult human experiences possible, it seems remiss that it isn't out there more. Now this is a show that deals with it, but it deals with it with humor and levity because to me that's how life goes…is that when stuff gets difficult, we use humor to cope. So the tone of the show really reflects that, and it's one that I'm really proud of. Even though it's about something difficult, it's also fun and relatable as well. So I'm really pleased to be painting a picture of a very, very difficult thing…delivered with some sugar
You two have such a great on-screen chemistry—was there anything you did to make sure your relationship came across as believable and relatable?
Esther: We met a couple of hours before we had a chemistry read, which sounds ridiculous but you have to get in front of people you've never met to prove to them you have chemistry with this person you've never met. Which is a bit crazy to me, but it's necessary for the job. We met a couple of hours before it just to hang out and go through the scenes, but we just ended up chatting and it was just very clear that we just really got on…which is obviously a massive help for the show, but also you know personally. Because we have to spend so much time together, because we have so many scenes together, so thankfully I really like Rafe and he really makes me laugh. Otherwise the day to day would be so awful, so that's a relief.
Rafe: Yah I agree, we just really enjoy hanging out with each other. I spoke to Esther the other day and she was like it's really weird that this show is now out there for people to see. Because it feels like a private thing between her and I, you know like, it really does it feels like this really beautiful time that we shared together now the whole world gets to see it. It's a strange feeling and obviously that's the reason why we made it, and obviously we want people to watch the show…but it still feels a bit like, "no guys you shouldn't be allowed to see this!" It's a really weird thing, it feels like someone's just like meddling in your stuff.
Rafe, what is your favorite aspect of your character, Jason?
Rafe: You know, for a while now I've been looking to find a character which I was able to bring a lot of my own essence to. And even though we're very different, there's a lot of me in this part. So when you ask me what's your favorite aspect of the character, it's like it's asking me what my favorite aspect of myself is—I get a bit shy about that, Kimberly. I don't know really, all I can say is…well, he's funny right? He's funny and he likes to make people laugh, and that's something I can identify with because I like making people laugh and I like humor, I like comedy, I like watching comedy, I like funny people. So I think his sense of humor is nice. And he's got a rockin' body.
Esther, same question for you. What's your favorite aspect of your character, Nikki?
Esther: What I really love about Nikki is that she will just kind of go at things with full throttle without really thinking about it until afterwards. And she'll really dedicate herself to something and she'll get really tunnel visioned and then she'll frantically worry about it during it but she'll still go for it which is something that I wish that I could be a bit more like. I tend to take forever to think about things and decide on things so I really like that about her. I just love her energy. I was thinking about this the other day, I was thinking its so funny because it's always so sad leaving the series when you finished working on it. And I was like, why do I find it so sad so sad to finish it? And I think it's because, this is a really strange thing to say, but I think it's because I don't get to hang out with, obviously Rafe, but also I don't get to hang out with Nikki. Which is stupid because she's with me, but she's also not. I think she's just got a lovely energy about her.
What are you guys looking forward to the most in Season 3?
Rafe: Just getting to be with Esther everyday. Getting to be hopefully with the same crew, the people we really love. You know we shot this show in the height of the pandemic, the second season, and that presented lots of challenges. We really feel like we've been through something. It would be nice if we didn't have to have a q-tip shoved up our nose every single day—that will be something to look forward to. It will be nice to see some of the beautiful faces of the crew, who knows? We can but hope. It will be nice to get back to acting and telling the story in a show that we really believe in, we really care about for me, it's a real career highlight. I'm counting down the days.
Esther: I concur. It's so interesting, we were just saying about the crew…obviously we didn't get to see everyone's faces, we got so used to people with masks on. It wasn't until the very last day we had this incredible cast and crew shot where normally you're there all together, but obviously because of social distancing, the photographer had to take individual photos of everyone. It's the first time we'd seen everyone in ages without their masks on and it was so lovely. It was just like oh yah, that's what you look like!
THE CONCLUSION?
I love the series. I always love to find a tv show that I can binge-watch during downtime and once the kids are in bed. And this is one that once I started, I had trouble putting down! If you're looking for a new show that is funny, relatable and at times pure emotion, this is the one for you! 
IS IT OK FOR KIDS?
Trying is rated TV-14, likely for adult situations including sex and nudity. I would not recommend the series for a younger audience.
Let us know if you give it a watch and tell us what you think!