Jurassic World Camp Cretaceous | Interview with Paul-Mikél Williams, Colin Trevorrow and Scott Kreamer
Grab some popcorn and sit down with us as I interview Paul-Mikél Williams, Colin Trevorrow and Scott Kreamer of the new series Jurassic World Camp Cretaceous now streaming on Netflix!
Jurassic World Camp Cretaceous: A No-Spoiler Review
Hi friends! If you have kids at home I'm sure you're no stranger to Jurassic World Camp Cretaceous now available on Netflix. As soon as my boys saw a trailer for the animated series, they were hooked! Thanks to our friends at Allied Phoenix and Netflix Media we had the chance to screen the series and do round table interviews with Colin Trevorrow (EP and Jurassic World director) and Scott Kreamer (EP and Showrunner) and with the cast Glen Powell (Dave), Jameela Jamil (Roxie) and Paul-Mikél Williams (Darius). So I'm going to share that Q&A with you and tell you what our family thought of the show! Let's dive in…
Jurassic World Camp Cretaceous
Jurassic World: Camp Cretaceous follows a group of six teenagers chosen for a once-in-a-lifetime experience at a new adventure camp on the opposite side of Isla Nublar. But when dinosaurs wreak havoc across the island, the campers are stranded. Unable to reach the outside world, they'll need to go from strangers to friends to family if they're going to survive. Scott Kreamer (Pinky Malinky) and Lane Lueras (Kung Fu Panda: The Paws of Destiny) serve as showrunners and executive producers. The series is executive produced by Steven Spielberg, Frank Marshall, and Colin Trevorrow. Zack Stentz serves as consulting producer.
Interview with Paul-Mikél Williams (Darius)
Paul-Mikél is a young actor who plays the main character Darius in the series. My boys just loved the character and were so excited I had a chance to talk with him.
I have three boys and they highly identified with your character, definitely connected with Darius. So I wanted to know what did you like most about your character and what aspects of your character did you identify with the most?
Paul-Mikél: "Okay. So number one, I just want to say that I am also the baby of three boys. One of the things that I liked most about my character Darius was that he was always outgoing. He was always very selfless. He always put everyone before himself. Um, he almost got killed multiple times, but what I really love is that he's not the silent one of the group, he was always the one that wanted to stop the arguments. He was always the one that wanted everybody to get along. I love how people relate to [the show] because it's not just a story. It's a story that you can put yourself in. You can put yourself in that person's shoes and vice versa. And I love how Darius is. I love how I got the chance to make Darius communicate to families such as yours. And I really, I really appreciate that you asked that question. Tell all of your children that I said hi!"
Seriously you guys, he was the sweetest! In fact, while I didn't get to ask Glen Powell (Dave) and Jameela Jamil (Roxie) a question they were perfectly lovely on the call. It's always a treat to meet actors who are truly great in person as well as on screen.
Interview with Colin Trevorrow and Scott Kreamer
Next up it was time to chat with the producers! It's always fun to chat with producers and directors to get more of the behind the scenes thoughts. Scott and Colin were so accommodating and you could tell they were truly proud of this series.
I have three young boys who absolutely loved the series. When we started the series, I was really excited to see Darius as the lead. And I think Paul-Mikél did an incredible job. So how important was it to you to have representation in the series when you were producing the show?
Scott: "Oh, hugely important. You know, we really wanted our cast and our characters to reflect the world around us. And so diversity is very important. We have a very diverse crew, we have a very diverse writer's room. So yeah, it was very important for us that every kid watching can see a version of themselves — someone they can identify with. Yes, it was very important."
Colin "I second, everything that Scott said. And something that I observed over the time of working with the writers is how important it was for everyone to not just have kids be able to see themselves on screen, but for those characters to be complete and fully well-rounded and rich, and the way that they wrote each of these kids and how deeply they went into the anxieties and the fears that we all have when we're both children and teenagers. And then also how through the perspective of their identity and their background I thought was really brilliant and very carefully considered."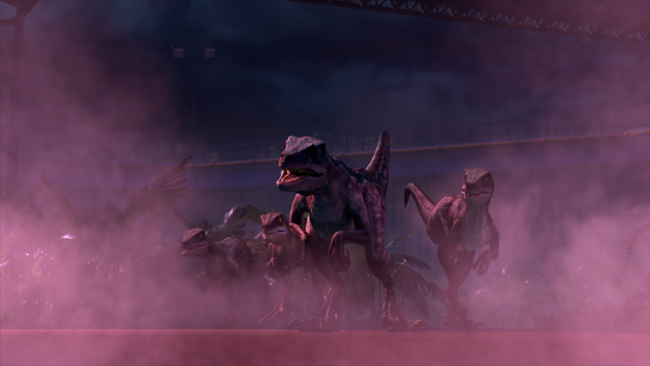 Another thing that was really exciting as we were watching the show was how well it tied into the canon, Jurassic World. And so my question would be was it written that way? And did you have to check along to the way to make sure that the series fit in well with the movie and was that a big point of the series as well?
Scott: "Well, yeah, after figuring out these characters yes, what you just said was everything. Like we spent a long time, a lot of viewings of really all the movies, because we wanted it to feel right. But as far as the events of our series, yeah. We were watching Jurassic World every other day —  every day — plotting out where the different events took place and where it would make sense for our kids to be, where they could intersect with the events of the film and where we had to get out of the way to not break the continuity of it. So, yeah, it was, it was a big puzzle. We spent a lot of time — it's kind of fun — but yeah, we spent a lot of time doing that."
THE CONCLUSION?
We loved the series. In fact, we've already started watching it through a second time! If you have Jurassic fans at home, it's an easy pick. But I would say that the series is interesting for more than just Jurassic and dino fans. There are so many good story lines, characters and lessons to be learned.
IS IT OK FOR KIDS?
This film is rated TV-PG for mild violence and gore and some frightening and intense scenes. I will say there are a few scenes of adult characters being killed and eaten by dinosaurs (hey, it's Jurassic World), but it is "off-screen" so nothing is being seen, rather implied.
I will also note that the show also does deal with parental loss; so if that is a trigger for you or anyone viewing be aware of that going in.
But I really hope if you haven't seen it yet that you'll give it a watch! I really think it's 100% worth it and I know everyone in our home is excited for Season 2! Let us know if you see it and tell us what you think!