5 Reasons to See Disney's Aladdin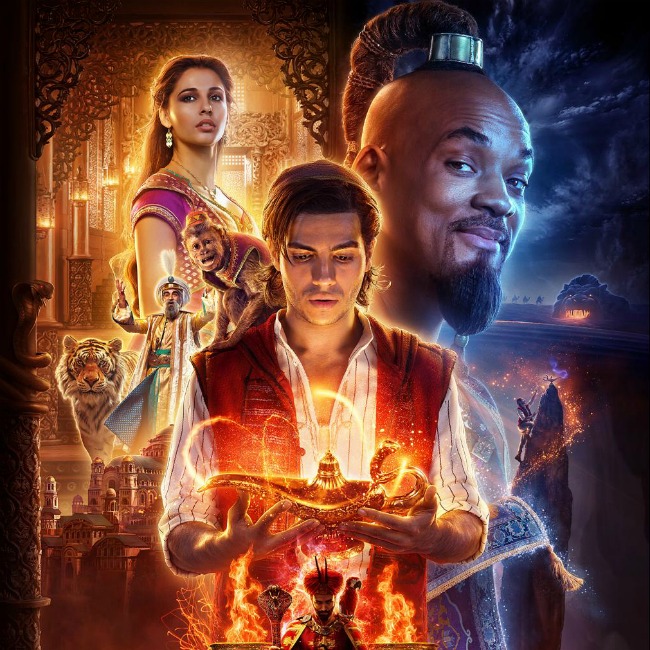 From costumes to choreography, check out our top 5 Reasons to see Disney's Aladdin in theaters this weekend!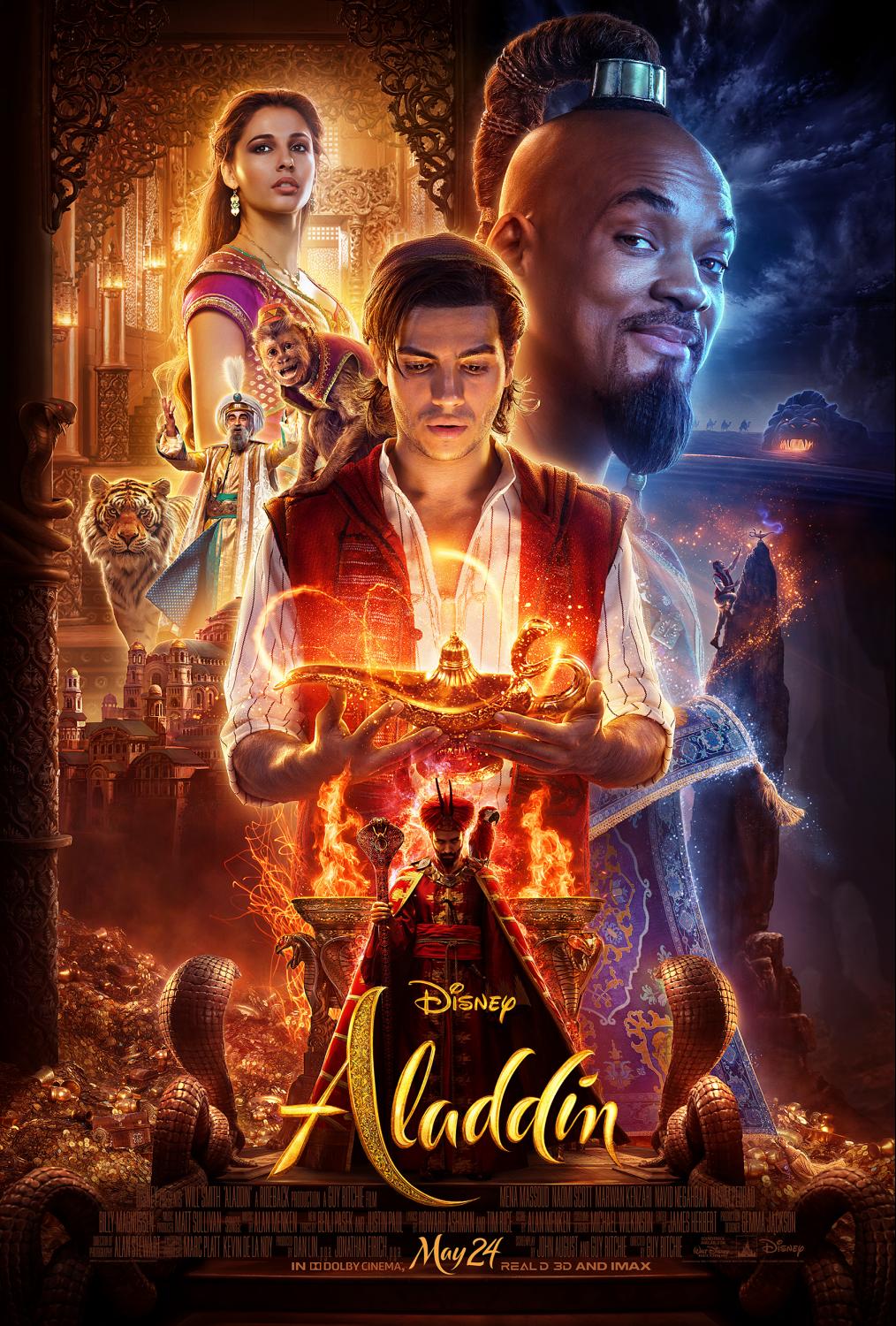 DISNEY'S ALADDIN: A NO-SPOILER REVIEW
Walt Disney Studios' "Aladdin" hits theaters Thursday and I was lucky enough to snag a sneak peek thanks to our friends at Disney and Fingerpaint Film! I have to be completely honest, Aladdin was one of my favorite movies growing up and I had a lot of skepticism going into this film. I didn't love all of the trailers, I wasn't sure of the casting, how the Genie measure up and much more. But I am here to tell you that ALL of my doubts and concerns were put to rest and just a few minutes into the film. I LOVED IT. And I'm going to share 5 Reasons why I think YOU should get tickets go see it THIS WEEKEND.
DISNEY'S ALADDIN
A thrilling and vibrant live-action adaptation of Disney's animated classic, "Aladdin" is the exciting tale of the charming street rat Aladdin, the courageous and self-determined Princess Jasmine and the Genie who may be the key to their future. Directed by Guy Ritchie ("Sherlock Holmes," "The Man from U.N.C.L.E."), who brings his singular flair for fast-paced, visceral action to the fictitious port city of Agrabah, "Aladdin" is written by John August ("Dark Shadows," "Big Fish") and Ritchie based on Disney's "Aladdin." The film stars Will Smith ("Ali," "Men in Black") as the larger-than-life Genie; Mena Massoud ("Tom Clancy's Jack Ryan") as the charming scoundrel Aladdin; Naomi Scott ("Power Rangers") as Jasmine, the beautiful, self determined princess; Marwan Kenzari ("Murder on the Orient Express") as Jafar, the powerful sorcerer; Navid Negahban ("Legion") as the Sultan concerned with his daughter's future; Nasim Pedrad ("Saturday Night Live") as Dalia, Princess Jasmine's free-spirited best friend and confidante; Billy Magnussen ("Into the Woods") as the handsome and arrogant suitor Prince Anders; and Numan Acar ("The Great Wall") as Hakim, Jafar's right-hand man and captain of the palace guards.
5 Reasons to See Disney's Aladdin
1. Nostalgia
Like I said above, Aladdin was my #2 favorite movie of all time for the longest time (only out placed by The Lion King, naturally). So I was both nervous and excited to see what the live action remake could bring to the big screen. If you get nothing else out of the film, if you were a fan of the animated version of the movie you'll certainly feel a sense of nostalgia with the familiar characters and songs.
2. Cinematography
I think going into the film what I was looking forward to the most was the cinematography! Agrabah is STUNNING, I loved the vibrant colors and the attention to detail. Set decoration for Agrabah included a multitude of fabrics, textiles, colorful woods, metals, fruits, vegetables and a 1,000-year-old olive tree. "There was an entire marketplace, a bazaar, someone making Turkish Delights, someone selling lamps and someone making scarves…it was insane," says Mena Massoud.
3. Costumes
Growing up, Jasmine was my favorite Disney princess and I think one of the reasons was because I just loved her wardrobe! So naturally I was already interested in the costuming aspect of the film, but I was absolutely blown away! Oscar®-nominated costume designer Michael Wilkinson sat down with the filmmakers and studio early on in pre-production to review the wardrobe themes for each of the principal characters. It was important to everyone involved behind the scenes that the clothing be authentic to the characters' ethnicity and the geographical area they come from. To colorfully saturate the world they were creating on screen, Wilkinson scouted locations in Africa, the Middle East, Turkey and Pakistan in search of beautifully colored and richly woven fabrics and textiles.
4. Music
Not only will you get to hear a modern take on your classic Aladdin favorites, there just might be something new in store as well. While the original score is perfect as is, Director Guy Ritchie wanted to make them feel more contemporary, both lyrically and musically…an idea that Menken embraced wholeheartedly. The songs in the animated film were embedded in the music of the Arab world with flourishes of jazz here and there. Menken's new arrangements incorporate pop elements and showcase the musical talents of Will Smith. I loved the contemporary updates, it made for a very fresh and fun soundtrack (one I will be purchasing)!
5. Choreography
While I loved the original animated film, I don't think I really appreciated HOW MUCH movement, acrobatics and dancing went into it. To see these feats translate to live action was just mesmerizing! The stunts were breathtaking and the dancing was fresh and modern. I am really impressed with the amount of work that had to go into each and every scene. It added so much to the film that I wasn't even looking for.
The Conclusion?
GO SEE IT. Like I said, if you're on the fence or skeptical, I was there too. But I loved every minute. I loved the new characters, plot lines and songs. I loved the nostalgia of the original songs and story. I guarantee I'm going to see it again, probably this weekend. This is one we'll own, one we'll watch and one soundtrack we'll listen to on repeat.
IS IT OK FOR KIDS?
YES! Disney's Aladdin is rated PG for some action/peril. If you're familiar with the original story there are moments (like the Cave of Wonders) that could possibly be frightening for little ones but overall the film is very family friendly.
See it this weekend and let us know what you think!
Disney's Aladdin is in theaters nationwide May 24, 2019!